By Emily Leclerc, Waisman Science Writer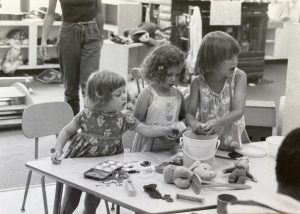 From the soft murmur of voices in the center's 10 specialty clinics to the loud and steady hum of the MRI on the first floor, the Waisman Center is full of sounds. In the west annex, the lively noises of play echo through the halls of the Autism Treatment Programs. Take a few steps further from the treatment programs and the first floor of Waisman is enveloped in the bright peals of laughter and happy squeals of children. Seemingly at odds with the serious nature of the rest of the center, the cutting-edge clinics and groundbreaking research spaces are housed alongside a boisterous early childhood program.
Inside the school, kids learn and play in comfortable and colorful classrooms. Outside, the children caper between swing sets, sand pits, and playground equipment in the Discovery Garden, a 1.5-acre accessible outdoor learning space. To the average onlooker, the WECP might appear like a typical preschool but it is far from ordinary. The WECP is an inclusively designed early childhood program that welcomes a developmentally diverse enrollment with programming and resources to support kids across the developmental spectrum.
Before it became a preschool, the WECP space was used as an exclusive school for individuals with disabilities. The school closed in the late 1970s after The Education for All Handicapped Children Act was passed in 1975. The act stated that all children with disabilities will have access to free and appropriate education in the least restrictive environments that allowed the maximum possible opportunities to interact with typical kids. The act was then amended to the Individuals with Disabilities Education Act in 1990.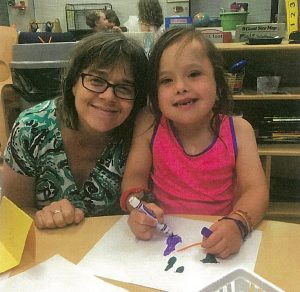 The school space was redesigned in 1979 as a model inclusive preschool that specialized in meeting the needs of children with intellectual and developmental disabilities. When it opened, it was one of a select few inclusive preschool programs in the country. At that time, it was difficult for children with disabilities and special needs to participate in early childhood programs because of a lack of capacity and inability of many early childhood programs to be able to meet their needs or fully include children with disabilities in their programming.
"When I started [in the WECP in 1992] there were very few programs that would agree to have a child with special needs," says Mary Locast, OTR, recently-retired WECP occupational therapist. "I don't think they were being mean or restrictive. They just weren't sure how to support them."
Building a framework for inclusion
The WECP reserves up to a third of its enrollment specifically for children with disabilities. Over the years, the WECP has supported kids with autism, Down syndrome, and cerebral palsy, among other intellectual and developmental disabilities.
"Each classroom has a team of teachers who have experience or training in working with special needs and in typical early childhood development and early childhood education," says Joan Ershler, PhD, former director of the WECP. Ershler directed the program for 27 years before retiring in 2019. "It is a wonderful kind of integrated program where kids are kids first."
In the 70s and 80s, when the WECP opened, there were not many inclusive programs and often children with disabilities were separated from typically developing kids. The WECP was intentionally designed to be inclusive of all children. Children with disabilities were fully integrated into the classroom to learn and play alongside their peers. This model helps break down barriers and promotes inclusion and accessibility starting at a young age.
This inclusion not only benefits the children with disabilities but all children in the program. "The inclusion is a big part of WECP," says Lisa Marie Carilli-McCord, associate director of the WECP and teacher who has been with the WECP for more than 30 years. "Children who have disabilities have friendships that are involved with those who are typically developing. These children learn to be accepting to one another as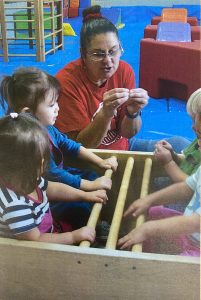 individuals. They are learning how to accept others with disabilities. Some of these friendships are still going strong." This lesson plays out almost every day in the preschool and hopefully makes an impact that lasts throughout their lifetime.
Mary Locast remembers an instance not too long ago when kids were coming out of a classroom to go to the gym. "They were all very excited," she says. There was a boy at the end of the line that she knew. He was the caboose of the train that day. The girl in front of the boy has special needs and some familiarity with Locast so she stops to say hi. "That little boy at the end of the line wants to get to the gym big time, right? He could have easily walked by her and gone into the gym but he did the perfect thing," Locast says. "He stopped and waited for her. He let her take the time she needed before they both headed on to the gym. Here is a child who is learning what it means to be cognizant of a person in your life who maybe needs a few accommodations," Locast says.
That core mission of inclusivity extends deeply into the classroom curriculums as well. The WECP's creative curriculum focuses on several areas to help encourage growth and development. Play skills, socio-emotional, communication, language, cognitive and motor skills represent several of those areas. The classrooms are organized with age-appropriate toys and activities to allow for development across those skillsets while also maintaining all of the necessary accommodations needed to support all of the children. "Everyone follows the same curriculum and we adapt it to be inclusive of all kids," Ershler says. The design of the curriculum has been this way since the WECP's very first class in 1979.
David Egan — a man with Down syndrome who has competed in the Special Olympics, earned a distinguished fellowship on Capitol Hill, and is an adamant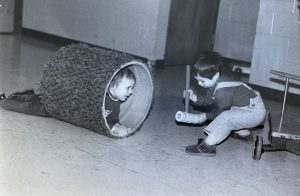 advocate for the Down syndrome and broader disability community – was part of that inaugural WECP class in 1979. His preschool experiences reflect the inclusive model and intentional creative curriculum that still define the WECP today. "The first class was made up of twelve kids… We had two teachers. One had a background in early childhood education, and the other had a special education background. Both of them worked with all of us. I loved the program, and it was good for me. We had drama, free play, blocks and trucks, music, field trips, and many other activities with our great teachers," writes Egan and his mom Kathleen Egan in his book More Alike Than Different: My Life with Down Syndrome.
Specialized supports so all kids can thrive
In order to properly support children all across the developmental spectrum, the WECP needs the appropriate staff to do that. "If a place is committed to having kids with special needs, they also have to be committed to the level of support that they may need at any time," Locast says. Alongside the experienced and specially trained teachers, the WECP has their own speech and language therapist and occupational therapist (OT). The speech and language therapist supports the kids with their communication needs and provides therapies as well. The OT assists with and supports the development of life skills.
Locast, who was the WECP's OT for the last thirty years, worked with the WECP kids with special needs in a breadth of areas spanning from fine motor skills and self-help skills to visual motor skills. She would work closely with the teachers like Carilli-McCord to design their classrooms to encourage the development of these skills through the use of special toys or activities. Locast says that at a glance it may look fun and chaotic but that all of what they do is thoughtfully done, prepared, and executed.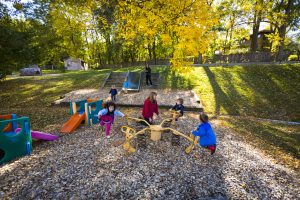 "Our main goal is to look at where a child is and help them continue to advance in their skills so that they are having their very best days as many days as they can," Locast says. "They are coming to school. They are knowing what they should do. They're handling their routines. They're involved with their peers. They are playing and having fun and getting things done." While Locast and the speech and language therapist Allison Ackerman, MS, CCC-SLP, work primarily with the children with disabilities, they are also there to support the typically developing children. Sometimes everyone just needs a little extra support.
Egan continues to cite the WECP as an important influence in his childhood that provided important foundations for his life. "Every time I set foot in the building, I get excited to hear about its work and growth. The growth of the center is one example of the progress that has been made in our country and society during the course of my life. We now have a better awareness of disability and childhood developmental needs. I am grateful for the wonderful beginnings I had there," Egan and his mom Kathleen write about the WECP in More Alike Than Different. Egan will reflect on inclusion and speak about the impact of his time in the WECP during his keynote address at the Waisman Center's 50th anniversary gala in October.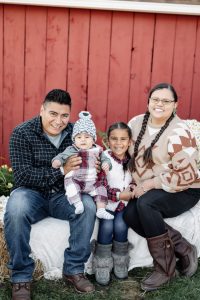 Maeghan Murie, PhD, who previously worked as a doctoral student in a Waisman research lab, sent her daughter Karalyn, who is typically developing, to the WECP for a little over a year while she worked at the center. Murie was quite happy with the care and education that Karalyn received. The experience was positive for both her and Karalyn and she was impressed that the teachers knew each child individually, Murie says. "The teachers that were there had been there a long time. It seems like the longevity of the teachers was because they were passionate about what they were doing," Murie continues. "It was also nice that everyone was more familiar with research and child development. They were trained in handling special needs children so the way they dealt with things was in a very nice way."
The WECP teachers work tirelessly to support every child that comes through the WECP. They want each child to succeed to the best of their abilities. Being a part of Waisman gives the WECP teachers and staff access to resources and information to better support each child in the program.
How the WECP supports research at Waisman
The WECP also benefits Waisman in return. When the program formed, one of the goals was to encourage research participation from enrolled families. Over the years, WECP children, with the consent of their parents, have participated in a broad range of research studies during their time in the WECP. Often this just entails the opportunity for labs to come and observe the classrooms. Their observations can provide important information and context for how children with disabilities grow, react, and engage in real world situations. The knowledge learned in the WECP then trickles back into the research being conducted at the center. It helps to inform research directions, identify what may be important to families of kids with disabilities, and how best Waisman's researchers can serve different populations.
The WECP has also been instrumental in establishing a new virtual learning module to help share their expertise in accessible and inclusive early childhood education with other programs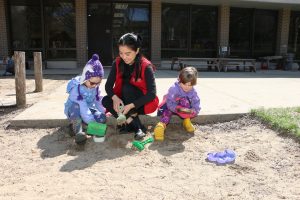 throughout Wisconsin and beyond. The Waisman ECHO (Extension for Community Healthcare Outcomes) Early Childhood: Including Learners with Disabilities module is a way for the WECP to help other programs learn how to support a developmentally diverse enrollment through best practices and evidence-based education interventions.
The WECP exemplifies the center's continued dedication to supporting individuals with disabilities across the lifespan. "Our mission, alongside the Waisman Center's, is to support our families and the community," says Nancy Saevang, newly selected director of the WECP. "I believe the WECP offers an interpersonal experience for our families and children with varying developmental backgrounds to be immersed in an environment where they are loved, nurtured and cared for.  It is important to allow for the flexibility, appropriate tools and additional resources to meet all developmental needs."
| | |
| --- | --- |
| Your support makes a difference. Donate now to advance knowledge about human development, developmental disabilities, and neurodegenerative diseases through research, services, training, and community outreach. | DONATE NOW |
---
Learn more about the Waisman Center's 50th Anniversary, including events, history, stories and images:
50 Years | 1973 - 2023
---