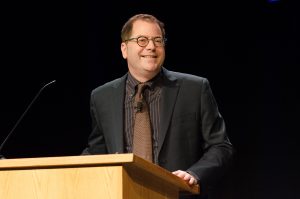 By Charlene N. Rivera-Bonet, Waisman Science Writer
The fun decals on the colorful walls and the cheerful environment gives it away, the third floor of the Waisman Center is dedicated to children. This space is where Seth Pollak, PhD, has spent most of his career studying child emotion, and how early life experiences shape the brain during development. Pollak runs one of the longest standing labs at the Waisman Center: The Child Emotion Lab.
Pollak, Distinguished Bascom-Vaughan Professor of Psychology, was hired at the University of Wisconsin-Madison right out of graduate school. It was the Waisman Center that attracted him to Wisconsin and has kept him here through the years. "This whole interdisciplinary community of people interested in everything from the policy level to the cellular level of development was really exciting," says Pollak. He was drawn in by the infrastructure designed around serving children and supporting family-oriented research.
After a few years of working on campus, Pollak was offered a space at the Waisman Center by the then-director Marsha Mailick, PhD, emeritus vice chancellor for research and graduate education. This opened up an opportunity for a bigger lab space, better access to the resources that the center offered, and the ability to launch more studies in parallel. "And then from that point on the lab just grew. We were able to bring in postdocs, and be in a position to be a lot more active," says Pollak. They now had the creative space to gather everyone together, which allowed people to sit around and bounce ideas and give each other feedback. "This always ended up just feeling really generative," says Pollak.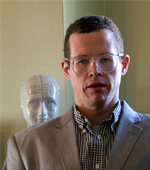 There was a lack of biologically-based research at the time Pollak was starting up his lab in the field of child emotional development. Most of the knowledge that was available came from questionnaires or observation-based research, and was much more descriptive rather than experimental. Pollak was one of the first people to introduce psychophysiological and biological methods to understand how children's experiences change their brain. "I think he's been always a forerunner. Just a very prominent figure in that space," says Jamie Hanson, PhD, former graduate student in Pollak's lab and now assistant professor of psychology at the University of Pittsburg. Hanson's current work branched off the research he did in Pollak's lab.
Pollak's original mission at Waisman was looking at the nature of kids' experiences, and how those affected different aspects of brain development, including perception and cognition.  "At least initially, the idea was, if we understand more about the biology of what's happening during development, that's going to open the door for more targeted and more focused treatments, and can have a little bit more specificity," instead of having one-size-fits-all types of treatments, says Pollak.
During those starting years, Pollak's efforts were focused on children that experienced exposure to high stress, such as physical abuse. A few years after, parents around Wisconsin started approaching him with questions about their kids, who were adopted from international orphanages. Parents had questions that research or physicians hadn't been able to answer yet. This led him to study emotion in children that experienced neglect and institutionalization at international orphanages where they were taken care of as a group, rather than an individual child. For a while, his lab ran one of the largest studies in the world of children that had been reared in orphanage settings before adoption.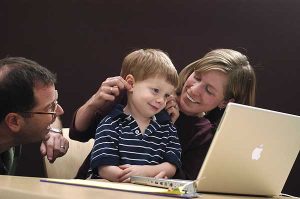 Pollak then decided to zoom out to look at broader questions. "Instead of asking about specific things like neglect, or abuse, or institutionalization, we really started saying, 'Hey, what's going on with stress and adversity in general?'" says Pollak. His current focus is on how to better understand what a child's experience is, and how children view or perceive what is happening in their lives. They have collaborated with other Waisman investigators to look at stressors such as poverty, language delays, and various intellectual and developmental disabilities and how they affect children's perceptions. "Understanding a child's meaning making [or perception] of their life experiences might be the key to understanding biological responses," says Pollak.
Pollak's lab has been looking at emotion in children as young as preschoolers all the way up to adolescents. Recently they expanded their pool and reached out to adults, but not just random adults. They tracked individuals that had participated in their studies as children and were now grown-ups. "We asked them to come back. And they did, they actually remembered coming into the lab as kids," says Pollak.
Their return resulted in two interesting studies that showed the impact of early life experiences even into adulthood.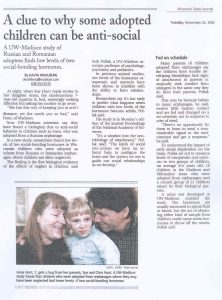 Some of Pollak's research has made big splashes both in the science world and in the media. The first paper he published showing a correlation between brain changes and child abuse made the front page in the Wisconsin State Journal. "That was actually, a really big thing," says Pollak. "People knew that child abuse was bad. But there had never been an empirical study showing that there was a brain correlate of that." Two other studies, one in developing an assay to measure oxytocin from urine in order to measure stress, and a second one looking at the effect of poverty on kids' brains also ended up having huge impacts in the field and were covered by mainstream media.
All of these accomplishments have not been without challenge because this was a completely new field of research. "I think researchers were skeptical of it. Families were sometimes anxious about [participation]," says Hanson. "But I think Seth, through a lot of rigor, demonstrated that it could be done and done well from a research perspective." He also eased the families' anxiety by showing care, compassion and thoughtfulness, says Hanson.
The nature of the circumstances they study in children makes it hard to identify, recruit, and retain families, since most of them are under high levels of stress, or don't have a lot of resources. Additionally, most of the technology in the neuroimaging field has been geared to adults. Much time, says Pollak, is spent trying to make the lab experience fun, attractive, and suitable for children.
Similar to Hanson, numerous undergraduate and doctoral students, and postdoctoral fellows have been trained in Pollak's lab. Karen Smith, PhD, is a former postdoctoral fellow who arrived at the lab with an interest in studying development. "There was really no doubt about this being the best place for me to go for the postdoc," says Smith. Her work has focused on understanding the mechanisms underlying variability and responses to stress in early childhood.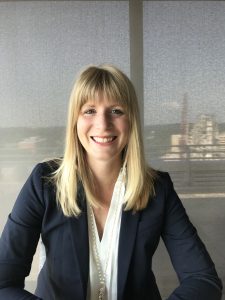 After working in Pollak's lab, Smith is now an assistant professor of psychology at Rutgers University where she continues examining the mechanisms underlying variability in responses to stress. Smith says that Pollak has been an integral part of her career, helping her get her foot in the door of development research, and helping her streamline her research program. "I feel like I've gained so much knowledge from him. And he's always happy to give more," Smith says.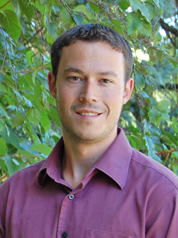 "I think what Seth has been able to do as a mentor," says Brian Leitzke, PhD, former graduate student in Pollak's lab, "is provide a foundation for students to be able to create their own identity, whether it's in clinical areas or in research." Leitzke came to Pollak's lab after spending time as an elementary school teacher, working with kids who had experienced early life stress. He was fascinated by the research Pollak was doing, and the possibility of using that research to help inform interventions for kids. Now, as a psychologist at the American Family Children's Hospital, a lot of what he learned through the research in Pollak's lab has informed the approach he takes when working with children.
Pollak's numerous contributions to science have shaped the way we understand brain structure and function development in the context of early life experiences. Pollak still continues to innovate and improve his research. "In recent years, I've become much more aware of the fact that, in the real world, people and children are learning emotion in really complex contexts," says Pollak. Now, he wants to bring into the lab the richness of a child's real social ecology and social lives.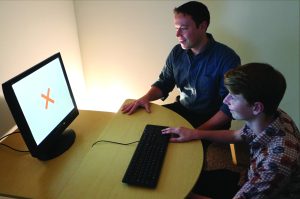 | | |
| --- | --- |
| Your support makes a difference. Donate now to advance knowledge about human development, developmental disabilities, and neurodegenerative diseases through research, services, training, and community outreach. | DONATE NOW |
---
Learn more about the Waisman Center's 50th Anniversary, including events, history, stories and images:
50 Years | 1973 - 2023
---