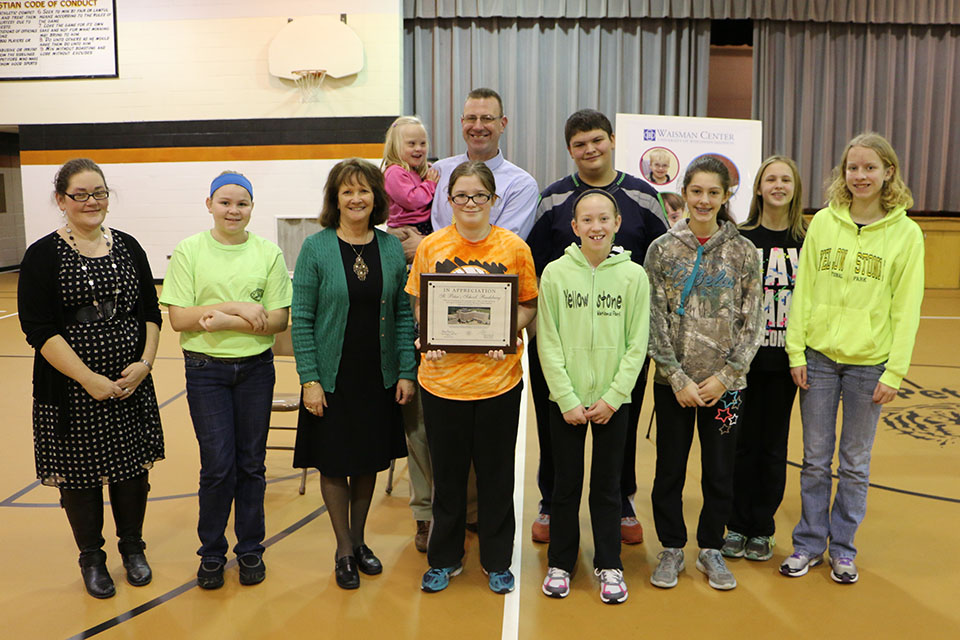 Adityarup "Rup" Chakravorty, Waisman Communications
Led by their student council members and teachers, the students carried out a 'Dimes for Down' syndrome fundraiser and raised more than $700 in support of the Down Syndrome Clinic at the Waisman Center.
Several students at St. Peter's have friends or family members who have a developmental disability, and these personal connections fueled their efforts to make the 'Dimes for Down' syndrome week a success.
"We wanted to raise awareness, as well as gather financial support," says Timothy Thomas, whose 4-year-old daughter Kate has Down syndrome and was a major source of inspiration for the Dimes for Down syndrome fundraiser. "We wanted to support the Waisman Center as it provides us—and families across the state—with hope and encouragement."
The funds will go towards providing resources—such as books about Down syndrome—for families served by the clinic. One of these books is 47 Strings: Tessa's Special Code, an illustrated children's book written by a local parent of a child with Down syndrome. 47 Strings tells the story of Tessa, a young girl who was born with Down syndrome, and the heartwarming lessons we can all learn from her. The book is particularly geared towards siblings of children with Down syndrome.
Books like 47 Strings can provide much-needed support to both the children and parents visiting the Waisman Center Down Syndrome Clinic. "We are very grateful to the students, the staff and the parents of St. Peter's school," said Maria Stanley, director of the clinic and a developmental behavioral pediatrician. "These thoughtful acts of generosity inspire us and allow us to continue to provide exceptional service and care to our patients and their families."
The Waisman Center Down Syndrome Clinic is a partnership with UW Health and the American Family Children's Hospital. An interdisciplinary team of professionals—including social workers, psychologists, dieticians and physical therapists—works together to provide clinical care to children diagnosed with Down syndrome and their families.
Several members of the Waisman Center communications team, led by Teresa Palumbo, visited St. Peter's School on Monday, Dec. 14. They were greeted by a school-wide assembly and were honored to present the student council members with a plaque celebrating the generosity of the St. Peter's community.
After receiving the donation check from Thomas, Palumbo talked about the books that would be purchased with the help of the funds and that each book would bear a sticker acknowledging the generosity of St. Peter's in providing this resource.
Palumbo also conveyed the thoughts of Albee Messing, director of the Waisman Center, who said, "The efforts of the students and staff at St. Peter's are remarkable. What a wonderful way to rally around a cause and make a difference in the lives of children and families affected by Down syndrome!"
To learn more about the Waisman Center Down Syndrome Clinic, please visit http://www.waisman.wisc.edu/clinics-ds.htm
To check out more photos from the Waisman Center's visit to St. Peter's school, please go to https://flic.kr/s/aHsknzWayJ