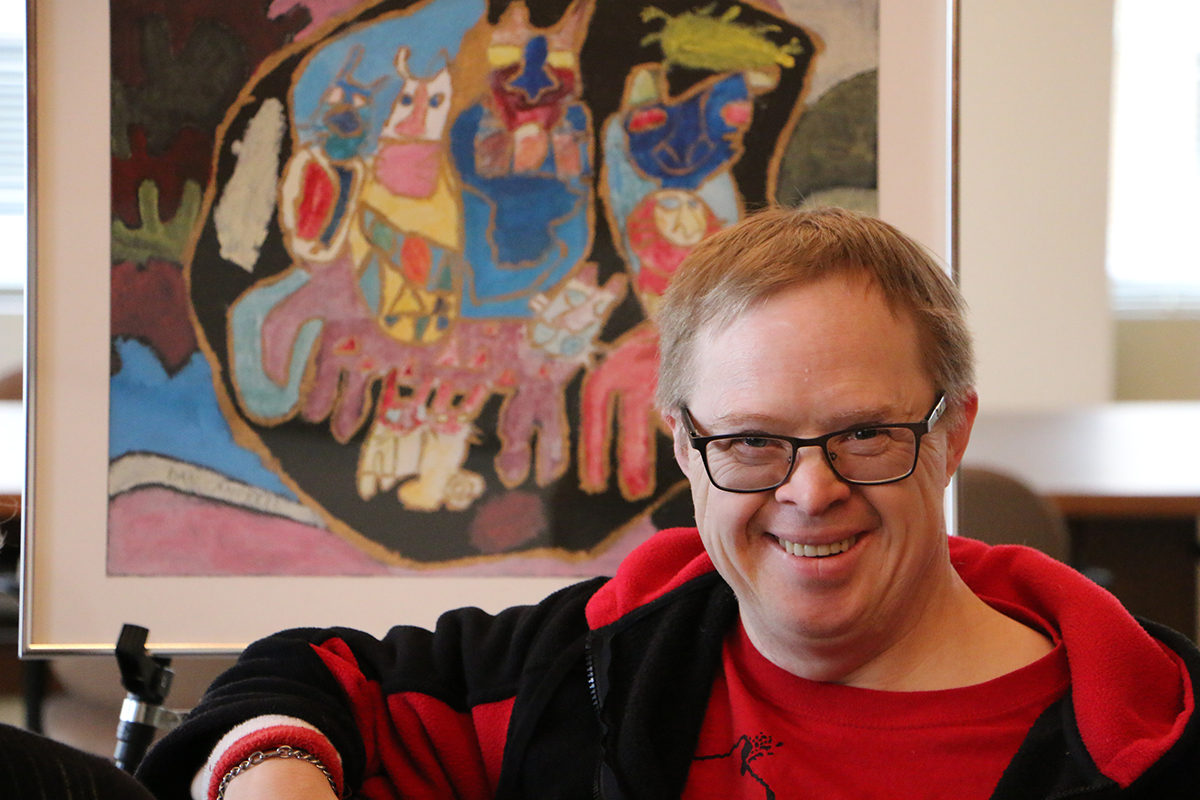 Dan Campbell passed away recently. He was a prolific artist and contributed many pieces of his work to the Waisman Center's Harvey A. Stevens Collection of Art by People with Disabilities. Dan and his family also participated in a number of research studies at the Waisman Center over the course of more than 30 years, making significant contributions to advancing knowledge about intellectual and developmental disabilities and neurodegenerative diseases.
Featured below is a story we wrote several years ago about Dan and his family that highlights his work and his many contributions to the Waisman Center. An obituary for Daniel Glen Campbell can be found here.

There are Stray Cats in the Waisman Center. Painted by Dan Campbell (pictured above), these eight felines welcome visitors from inside their framed canvas home. Other paintings by Dan are spread across the Waisman Center as well, Opening Doors in the Waisman Center business office and Bluebird in Associate Director Jody Bleck's office. They liven up the building, adding colorful stories to the calm beige walls.
Dan's first brush with the Waisman Center came soon after he was born. He had been diagnosed with Down syndrome, and his parents, Eileen and Fraland, drove in from their home in Pewaukee for a consultation.
Decades later Eileen would see an ad in the Milwaukee Journal Sentinel; the Waisman Center was looking for families who had adult children with developmental disabilities living with aging parents to participate in a research study led by Marsha Mailick, PhD, the current vice-chancellor for research and graduate education at the University of Wisconsin-Madison and Waisman Center researcher.
"I saw that little ad and thought, 'That's us!'" says Eileen. "So I called the number and that's how it started."
Starting with that study—almost 30 years ago now—Dan has volunteered for several other research projects, including ones looking at the onset and progression of Alzheimer's disease in individuals with Down syndrome.
"Families like the Campbells and individuals like Dan are our partners in research.  Were it not for them, and for hundreds of others who have volunteered and given so generously of their time, we would not be able to conduct human research that has resulted in fundamental knowledge about developmental disabilities," says Mailick.
By the time Dan started volunteering for research at the Waisman Center, he had been painting for some time. His first forays into the world of art came after he graduated from high school. "When he finished high school, there weren't many opportunities for him. So, we looked for something meaningful that he could do," says Eileen. Dan joined a local art center and never looked back.
"We look at some of his early art and it's very beautiful but relatively primitive," says Eileen. "As he kept at it he got into some quite complicated pieces. We had no idea that he could do some of the things he has done."
Most of Dan's paintings are awash with color. Elaborate lines boldly define the contours between different shades. "He gets his inspiration mostly from photographs or other images," says Eileen. "First, there's a sketch, then the colors and finally, painstakingly, he draws the lines 'where the colors tell him'."
Dan's art—from cars to dinosaurs, from animals to Disney characters—brightens the homes of several relatives, friends and even strangers, in addition to the Waisman Center.
"When they see his art, a lot of people ask Dan to draw them something," says Fraland. "It doesn't always turn out the way they might think, but that's his interpretation of what was requested and people love it!"
Dan's art is part of his identity. One of Eileen's favorite stories is how Dan would go to his nephew's baseball games and fall asleep in his chair under the shade of a canopy. "I didn't want to people to think that he was just some guy who came to the games only to fall asleep," says Eileen. One game day, she brought in several prints of Dan's artwork and asked the other spectators to choose whatever they wanted. "They were amazed!" she says.
Dan has painted over one hundred pieces and continues to be an active artist. But as he gets older—he is almost 60 years old—Eileen and Fraland are seeing declines in his communication and cognitive abilities.
"We initially noticed subtle changes," says Eileen. "For instance, he started having difficulties signing his paintings." Over time, Dan's difficulties have increased, and he can no longer sign his art at all—he uses a stamp instead. "It's been so sad to see this fiercely independent individual become dependent on you again," says Eileen.
Dan's art has also been changing—it has become more abstract, darker, as if he feels somewhat trapped in his own mind. But it is still a message in beauty. He recently donated seven watercolor paintings to the Waisman Center, and their intricate lines and symphonic colors continue to echo Pablo Picasso's timeless thoughts on art and how it "washes away from the soul the dust of everyday life."
Note: Dan is no longer able to express himself verbally at length, which is why we were unable to include his voice in this story. You can hear Dan, and his parents, speak in this archival clip about the Waisman Center's Harvey A. Stevens International Collection of Art by People with Developmental Disabilities. Several of Dan's paintings are part of this collection.
By Adityarup "Rup" Chakravorty, Waisman Communications