Tina Iyama-Kurtycz, MD, was 8 years old when she decided that she wanted to be a doctor.
"The first money I ever made was $9, helping my dad stuff envelopes for his business," says Iyama-Kurtycz, "and with that money, I bought the miniature pocket version of Stedman's Medical Dictionary."
In December 2017, 58 years after pouring over that medical dictionary for the first time, Iyama-Kurtycz will retire after working for decades as a developmental pediatrician at the University of Wisconsin-Madison. She spent the bulk of her time at UW-Madison as a clinician at the Waisman Center's Autism and Developmental Disabilities Clinic.
"Tina has touched so many lives in her role as a clinician and as an educator," says Maria Stanley, MD, the Waisman Center medical director. "She has also reached out to the community to share her medical knowledge and her deep understanding of individuals with autism and other developmental conditions."
Iyama-Kurtycz has also had a deep impact on her co-workers as well. "We are continuously inspired by her kindness, her insight, her energy, and her sense of humor," says Stanley. "We are deeply grateful for the opportunity to have had this unique and wonderful person as our colleague."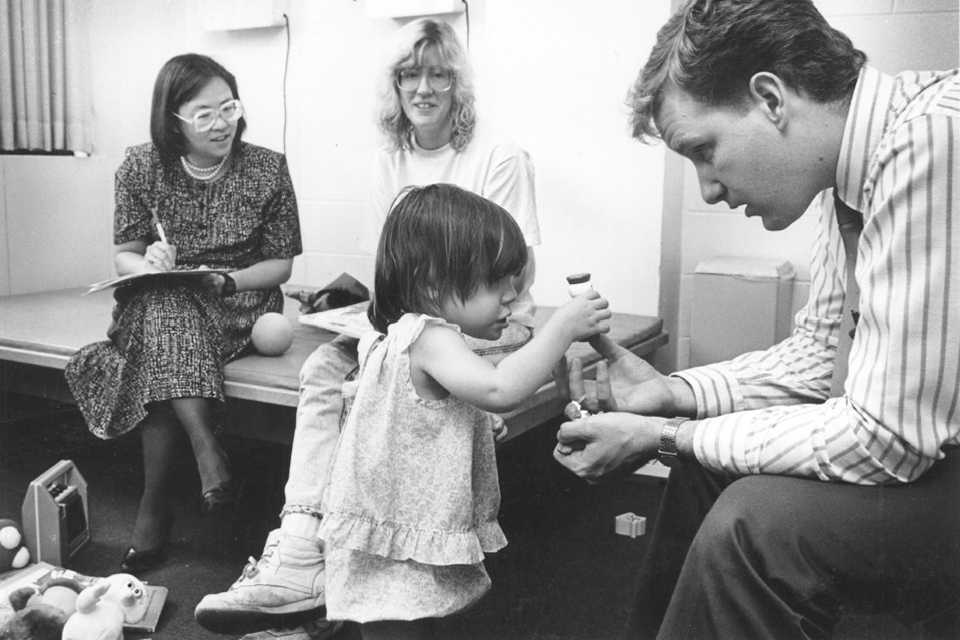 Iyama-Kurtycz's journey from an 8-year-old with a dream to a skilled clinician took her to medical school at the University of Michigan and a residency at the University of Kansas. "While at Kansas, I met a pediatrician who was taking care of children with disabilities and I realized that's what I wanted to do," says Iyama-Kurtycz.
And she excelled at it. "Tina has had positive impacts on so many families over the years," says Teresa Palumbo, communications manager at the Waisman Center. "When we talk to families—some of whom came to the Waisman Center more than 20 years ago—so many of their roads lead back to Tina and the care she provided."
The Kienbaums are one such family. They have been coming to the Waisman Center from Whitewater for clinic visits for their son Joseph who has autism spectrum disorder (ASD).
"Autism can be like a rough ocean, and Dr. Iyama-Kurtycz is a beacon of light on the shore," says Barbara Kienbaum, Joseph's mother. "Every time we had a question or a concern, she had solutions, she had answers; she had hugs, she shared tears, she always had the resources to get Joseph whatever he needed."
Iyama-Kurtycz's retirement will leave a void in the Kienbaum family's lives, as it will for many other Waisman Center patients. "There's going to be an empty nest for us when she retires," says Kienbaum. "And it's not just us; [her retirement] will be a great loss to the autism community."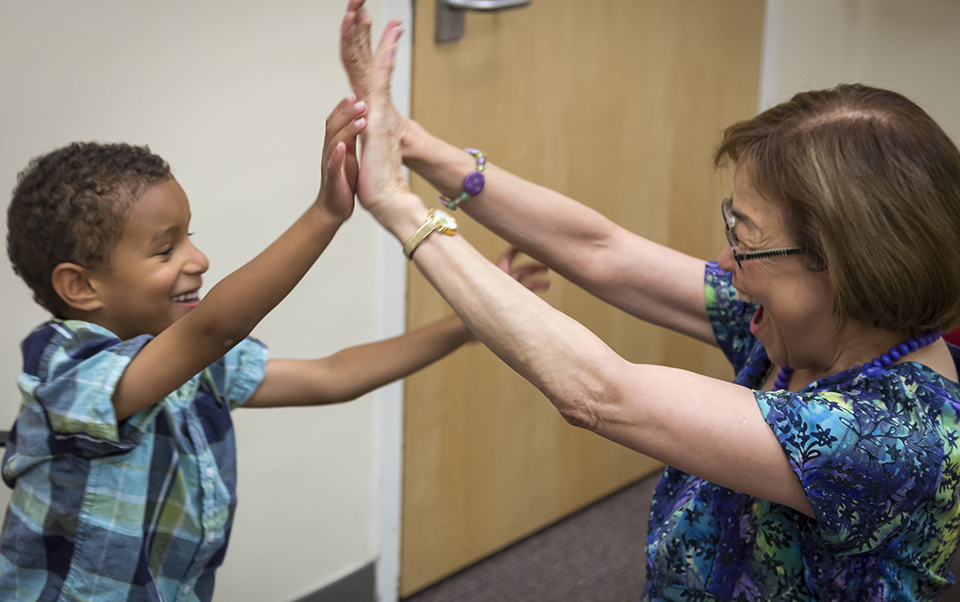 In addition to caring for young people with autism and other developmental disabilities, Iyama-Kurtycz also spends a lot of her time at the Waisman Center helping young clinicians gain experience and knowledge about caring for the people who come to the clinics.
"Tina is an incredible teacher," says Sarah Marshall, a clinical speech pathologist at the Waisman Center Clinics. "We are all busy here, but she always takes a second to step back and explain things."
What also impressed Marshall was that it didn't seem to matter how many times Iyama- Kurtycz had already explained something. "If there was someone new who needed that explanation, she would explain it again," says Marshall, "and she would do it so passionately that you couldn't help but be engaged in what she was saying."
Iyama- Kurtycz's role as a lifelong teacher is inextricably connected to her goal of being a lifelong learner. She talks about a seven-year period—1994 to 2000—when she wasn't at the Waisman Center; she worked at the UW-Madison General Pediatrics and Adolescent Medicine Clinic.
"I had never worked without a team before, but I learned how to do that," says Iyama- Kurtycz. "I also learned psychopharmacology; I learned how to treat children with appropriate medications. It was an important experience, and it broadened my abilities as a clinician."
But she missed working as a part of a team. "So when the opportunity to return [to the Waisman Center] came up, I said, 'Yes, I would love to do that!'"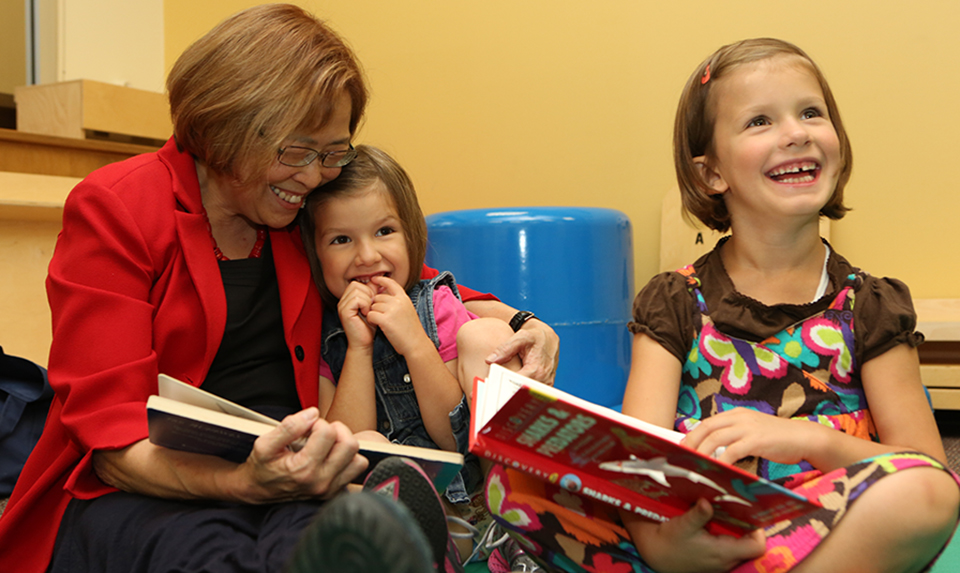 At the Waisman Center, and beyond, "Tina has been a fantastic advocate for disability awareness," says Palumbo. To raise awareness about issues around autism, Iyama-Kurtycz started a 'Day with the Experts: Autism' event in the early 2000s.
Today, that event has grown into the Waisman Center Day with the Experts Series with focuses on autism as well as cerebral palsy, cochlear implants, and Down syndrome. The series features presentations by Waisman Center researchers and clinicians, as well as a panel discussion with individuals and family members who share their experiences and expertise.
Other disability awareness initiatives started by Iyama-Kurtycz, included 'Literature and Life'—a book club focused on works about disability or by writers with disabilities; A 'Disability & Film' series, which examined the representation of individuals with disabilities in film over the decades; and helping students in the Medical Scholars Program—a program where high school students were admitted to medical school provisionally—understand the lived experience of individuals with disabilities.
"It's important to me to understand what other people are experiencing," says Iyama-Kurtycz. "It's all about respect and compassion."
The passion, energy, knowledge and empathy that Iyama-Kurtycz brought to her work will leave an indelible impression. "Tina has been a true leader in providing medical care and support to families," says Lewis Leavitt, MD, who was the Waisman Center medical director from 1989 to 2008. "Equally as important is that—even among the very fine people at the Waisman Center—Tina stands out for her social skills and empathy for people who are often in search of that. She leaves deep footprints and will not be forgotten."