A new estate gift will help support research and expand undergraduate and graduate student training in the area of intellectual and developmental disabilities at the Waisman Center.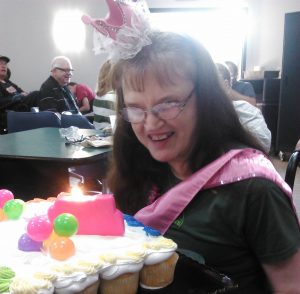 This significant gift – more than $1 million from the estate of Genevieve Lyda – establishes the Lyda Family Fund, a permanent endowment for the Waisman Center. Genevieve passed away in May 2007, and her estate helped support her daughter Jane, who had cerebral palsy. Jane passed away in December 2017.
"Through Genevieve's foresight and planning, she ensured Jane received care throughout her lifetime, and was still able to leave a lasting legacy through an impactful gift from the remainder of her estate. We are honored by Genevieve's decision to include the Waisman Center in her will," said Lisa Karnes, development and donor relations manager at the Waisman Center.
Genevieve's gift was motivated in part by Jane's visits to the Waisman Center Communication Development Program (CDP). Jane worked closely with Julie Gamradt, a speech-language pathologist, to develop her communication skills. Gamradt is the director of the CDP and the Communication Aids and Systems Clinic.
"Genevieve was a very committed parent who carefully and with determination sought out tools, strategies and people that could help her provide a good life for Jane, and she was a key partner in supporting Jane to advance her communication abilities with the help of the CDP," says Gamradt.  "Jane's gentle and fun-loving spirit was an inspiration to everyone that had the privilege to work with her."
Gamradt, along with Vickie Hoffman from United Cerebral Palsy, spent extensive time with Jane in her home and in the community, says Jami Brown, a friend of Genevieve's and Jane's.
Brown met Genevieve and Jane in 1995 and became Jane's legal guardian after Genevieve passed away in May 2007. Some of Brown's favorite memories of Genevieve and Jane include "spending most Saturdays with the two of them in their home and helping them set their Christmas tree up yearly, purchasing and wrapping gifts and listening to White Christmas by Bing Crosby," she says.
Brown remembers Genevieve talking about how Gamradt and Hoffman helped Jane. "Julie put together different books and communication devices to help Jane. Julie and Vickie also spent many days at malls or restaurants using the communication aids with Jane and Genevieve," says Brown.
Jane's experiences with Gamradt was one reason behind Genevieve's gift to the Waisman Center. "Genevieve also thought highly of and wanted to support the work and research in the field of intellectual and developmental disabilities that's done at the Waisman Center every day," says Brown.
Research at the Waisman Center focuses on advancing knowledge on intellectual and developmental disabilities and neurodegenerative disorders, and includes developing new and innovative ways to communicate for those who may be unable to do so in traditional ways.
"We are truly grateful for Genevieve's generosity and thoughtfulness. This estate gift will enhance our ability to continue vital, innovative research and training programs." said Qiang Chang, PhD, director of the Waisman Center and a professor of medical genetics and neurology.
"I think Genevieve would be happy to know that the gift may be used for research that helps people communicate to their best potential," says Brown.