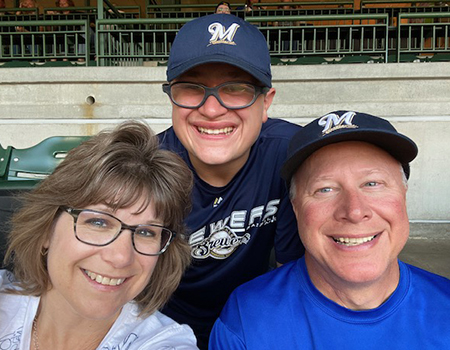 By Emily Leclerc, Science Writer, Waisman Center
James Manlick is going to homecoming this year and he simply can't contain his excitement. A huge smile lights up his face as he talks about the dance. As a senior in high school, this will be his last opportunity to attend. Since the moment he found out homecoming would be happening, he has been pestering his mom, Sharon, about picking up his ticket and his suit. "He's been all about when am I going to get my ticket," Sharon said, smiling.
School is a favorite of James', especially riding the bus to and from. So, going to homecoming is simply the cherry on top. While James' obvious joy for life and bright smile are utterly contagious, things haven't always been as easy as waiting for homecoming to arrive. He was diagnosed at a young age with fragile X syndrome (FXS).
FXS is a genetic disorder caused by a mutation in the gene FMR1. It is the leading inherited cause of intellectual disability. The condition causes developmental delays, learning disabilities, and social and behavior issues. An FXS diagnosis can be confusing and come with many challenges, so Sharon's first instinct was to gather as much information as possible. That hunt for information brought the family to the Waisman Center almost a decade ago. "We were seeking what help was available in the state of Wisconsin and how we can get better connected to the fragile X community resources," Sharon said.
Upon arriving at Waisman, Sharon and James became involved in research taking place at the center. They have remained deeply involved ever since their very first study. "I remember the first time that we came to the Waisman Center and it has just kind of blossomed from there," Sharon said.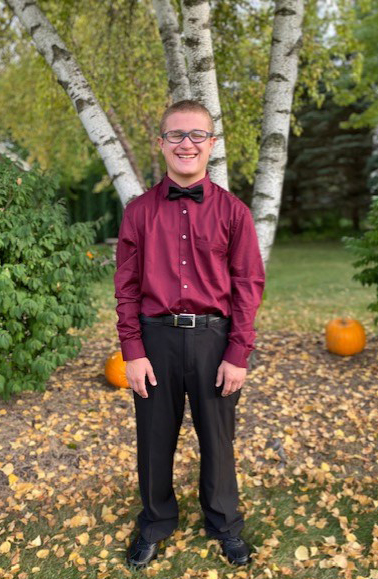 The Manlick family has been participating in research at the Waisman Center for almost ten years now. They have shown a drive and dedication to participate in and contribute to research that is not often seen in families. Both James and Sharon are impressively passionate about furthering the work being done on FXS not just for James, but for every other person with FXS. "We want to help advocate where we can," Sharon said. "We feel this is what we need to do to help others and try to make a difference."
Audra Sterling, PhD, an associate professor of communication sciences and disorders and a Waisman Center investigator, has been studying language development in people with FXS in order to develop more effective and accurate assessment tools. All of the research studies that the Manlicks have participated in over the years have been part of her research. For Sterling, working with the Manlick family over an extended period of time has not only been a pleasure but has helped to inform her research.
"They are so open and willing to share their life experiences. And those things help us as researchers know where we need to be thinking about the field. Of course, we are going to plan our studies based on what data is out there and what's important but none of that really matters if its not meaningful to the families," Sterling said. "So, they're giving us insight into what their lives are like and sharing this time with us. They help us think about what's important to James and to the family."
Emily Lorang, MS, CCC-SLP, a speech-language pathologist and doctoral student under Sterling, has also spent a decent amount of time working with the Manlick family as an examiner in several of Sterling's studies. The Manlicks were actually the first family Lorang tested. "I remember being so nervous even though I had practiced and prepared," Lorang said. "They were just the best family to be the first ones. They were so kind and flexible and it was a really great experience." Since then Lorang has worked with the Manlicks several more times and is always thrilled by their willingness to do or try anything. Sterling is equally as impressed as she knows that participating in research studies can be demanding.
"James has always been so willing even though it can be hard because we ask a lot. But he's always been a joy," Sterling said. "He's a hilarious person, loves being around people, and is willing to do the tasks and work hard. So, it's not just his parents that are so willing and awesome, but it's James too." Both Sterling and Lorang are inspired by the Manlick family, not just for their unwavering commitment to furthering research but also because of their ceaseless optimism and perpetual positivity. "They are such a joy and positive presence. Especially now, having people who have this level of optimism is such a breath of fresh air. It is so meaningful for everyone around them," Sterling said.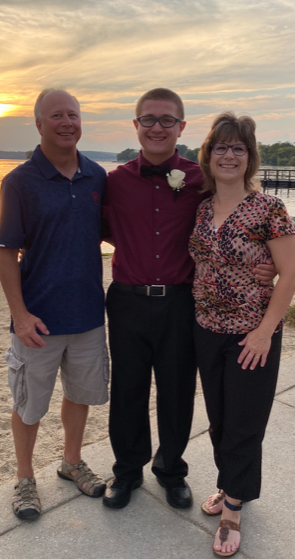 In 2020, the Manlick family was awarded the Family Volunteer Award by the Friends of the Waisman Center. The award seeks to recognize a family that, "has made exceptional volunteer efforts on behalf of the Waisman Center." While honored and pleased to win the award, Sharon says that the award is simply a pleasant byproduct as recognition was never their intention.
"We never had the thought of we're going to do this to try and win an award or get some kind of acknowledgement. It's always been just what can we do, how can we help and how can we have an impact," Sharon said. For the Manlicks, this is their way to contribute and they are going to continue doing it for as long as they can.
But for James, the next big milestone is homecoming.
He decided on black slacks, a maroon long-sleeve button-up, and a spiffy black bowtie to wear to the event. He was also a part of the homecoming parade with an organization called Best Buddies, which helps establish friendships between people with intellectual and developmental disabilities and those without. Despite FXS's impact on many aspects of James' life, it had no bearing on the simple pleasure of attending a school dance. And as James transitions into adulthood, the Manlick family will continue to do what they can to support fragile X syndrome research to help families nationwide.
"We love visiting the Waisman Center so, whenever they like us to come, we will be there,  Sharon said. "It really is all about how we can do our part as best as we can."
| | |
| --- | --- |
| Your support makes a difference. Donate now to advance knowledge about human development, developmental disabilities, and neurodegenerative diseases through research, services, training, and community outreach. | DONATE NOW |