By Charlene N. Rivera-Bonet, Waisman Science Writer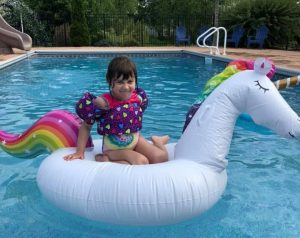 Eva Susan Borenitsch was magical. She knew no limits. "We called her our little unicorn," says her mom Emily Borenitsch. She loved snuggles, skittles, food sampling at Costco with her dad, and being outdoors during the warm weather.
Eva was 16 months old when her parents, Emily and Jim Borenitsch, noticed that she stopped using the few words she was saying. "That was very strange, because she was very vocal very early," says Emily. They took her to different doctors, all of whom failed to give her an accurate diagnosis. "We went to literally everyone under the sun, it felt like. Had all kinds of metabolic testing, and basically kept going down all these different routes, and then realizing' 'no, that's not it,'" says Emily. They eventually got a diagnosis for autism spectrum disorder, but Emily knew that wasn't right.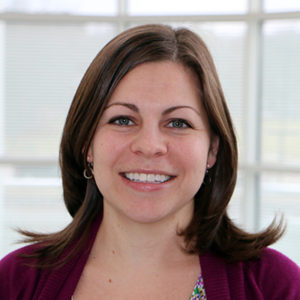 After a year and a half of searching for answers, the Borenitsch family arrived at the Medical Genetics Clinic at the Waisman Center, as recommended by Eva's pediatrician. "And it was like within 30 minutes," says Emily, that Christie Turcott, MS. CGC., a genetic counselor in the Waisman Center Clinics brought up Rett syndrome.
Rett syndrome is a rare genetic neurological disorder caused by mutations in the gene MECP2. This gene is important for communication between and function of brain cells. According to the International Rett Syndrome Foundation, it is typically diagnosed in children between 6-18 months old as they start to miss developmental milestones or lose abilities they had gained. It affects a child's ability to speak, walk, eat, and breath easily.
Because Eva had a rare form of Rett and didn't present all of the common symptoms of the syndrome, other doctors disagreed with the diagnosis and insurance refused to cover the test for Rett, saying there was no clinical reason for it. Turcott did it anyway, confirming her suspicions. "We had an answer, finally," says Emily.
After the diagnosis, staff at Waisman continued to provide support for Eva and her family through different clinics. "Our ability to give Eva the life that she deserved, and that we wanted and needed, was made possible because of all this support," says Emily. "And, in many ways, the Waisman Center served as an embodiment of everything that Eva was. We always knew that every person we worked with there was committed to supporting her perseverance; they gave her a place to share her magic, and they always were open to seeing and receiving her magic and love."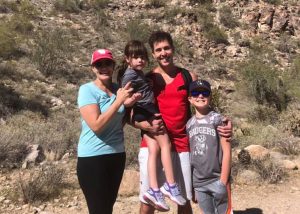 Through the Waisman Center, the Borenitsch family was connected with services and received testing and care that maximized Eva's development and built their confidence in the care they were getting her, says Emily.
Eva, who loved exploring and according to her mom "did not take just sitting and chilling," received neuromotor therapy through the Neuromotor Development Clinic, which provides comprehensive clinical care and support to young children with motor disabilities.
Emily and Eva always looked forward to their visit to the clinic. They would spend hours at the appointments and meet with a team of providers. Still, "we never felt like we had to keep repeating the story, they knew exactly where we were at," says Emily.
The Neuromotor Development Clinic was also Emily's go-to place for information. "Literally any questions we had, that's where we would go," says Emily. So, naturally, that's where she went when Eva, who was her dad's running buddy needed a larger running stroller, which they were able to help the family get. "It just felt so good to be in competent hands. To be around people who are good at what they do," says Emily.
Eva also received services through the Communication Aids and Systems Clinic (CASC). CASC's team of speech-language pathologists and occupational therapists provide alternative communication therapy and supports to children with communication challenges. Eva was non-verbal. However, "for a kiddo who didn't have verbal communication, she would connect with people on a whole different level," says Emily. Through CASC, Eva was able to have a voice that amplified her abilities to connect with others. Sarah Marshall, MA, CCC-SLP, a speech-language pathologist, set up an eye-tracking device for Eva – called Tobii – that allowed her to communicate by choosing words or images on a screen using her gaze. The device is a tablet with eye-tracking technology that detects where a person is looking on a screen, and allows them to write messages using their eyes. The device then reads those messages aloud. If Eva wanted to ask for Skittles – which she often did – all she had to do was focus her eyes on the Skittles icon on the screen, and the Tobii would read it out loud. The icons on the device were personalized for her. Eva picked it up quickly, and learned it faster than expected. "You could see that she realized what this could do for her. Like, she was excited to have this opportunity," says Emily.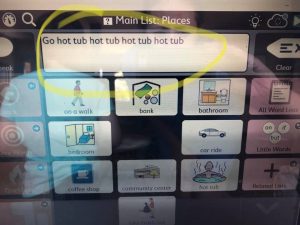 Marshall taught Eva how to use Tobii for an hour every week. "[Marshall] did it in such a way like she was committed to giving Eva a voice. That's what was driving and giving Eva a way to express all that magic that was in her," says Emily. "She could tell us jokes. We got to hear her say I love you." She also expressed some sassiness, like calling her mom's veggie meal "stinky vegetarian." Using Tobii, Eva found a new way to show her personality to the world.
Marshall also taught Eva's school teachers how to use the device. At school, they took pictures of all the kids in her class and added them to the Tobii, so that Eva could tell her parents about her classmates. Eva also participated in her school's holiday sing-along, by announcing with her Tobii which song her classmates were singing next. "She'd get all excited. She kept trying to request for them to sing Jingle Bells," says Emily. "She got to interact, fully engage and show everyone her personality."
Using the eye-tracker also helped alleviate her parents' anxiety, because it allowed Eva to communicate when she was upset, hungry, hurt, or tired. "As a parent, that's one of the hardest parts because there's so much going on [in their brain] and they're not able to get it out. And you could see at some points that it would cause some frustration for sure," says Emily. Using the device helped Eva express her needs, which was a relief for her parents and reduced Eva's frustrations.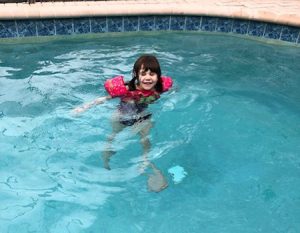 When she was not using her device, Eva communicated through physical affection, snuggles, and an occasional swat to her brother Elliot's head. "She and Elliot actually had a super amazing bond," says Emily. Elliot knew best how to calm Eva down with giggles and mini marshmallows. Emily says that the care Eva received at Waisman had a ripple effect that touched her brother Elliot as well. Eva's ability to communicate using her Tobii strengthened her relationship with Elliot and others around her.
When asked what was Eva's favorite thing to do, Elliot quickly responded "swimming." In April of 2021, the family moved to a one-story house when Eva's mobility was becoming more challenging. One of the things that attracted the family to the new house was that it had Eva's happy place – a pool. "It really was just a whole different world for her in the water," says Emily. Eva took private swimming lessons, through which she was able to do things that are typically difficult for kids with Rett to do such as coordinated motor movements and breath control. These swimming lessons, as well as her communication device, were paid for through the Katie Beckett Program, a resource the Borenitsch family found through the Waisman Center.
Emily is also grateful for the research done at Waisman to advance the knowledge on Rett syndrome, including the work of Qiang Chang, PhD, the director of the center.
Eva passed away at six years old in June, 2021. Her family continues to carry on her legacy by sharing her story and "spreading love and joy" just like she did. In October, 2021, the Borenitsch family participated in the Waisman Whirl Run, Walk, & Roll for All Abilities – a benefit to raise awareness and funds for the Waisman Center Clinics, research, and outreach programs. Eva and her family and friends had participated in this event for several years, often with the largest team. Unable to attend the event at the Waisman Center in 2021, the Borenitsch's hosted their own version of the event "Eva's Whirl" at their home. Approximately 65 family members and friends walked the route Jim used to run with Eva in the mornings. "It helps us to see her magic still having an impact," says Emily. "And if her story can somehow be inspiring or give a face to what [the Waisman Center does], for us that keeps her magic alive."
Eva could "just spread joy and show love in a way that people just can't do," says Emily. "We would often say that this is Eva's world and we just get to live in it. Eva was like, 'the world is mine. Thanks, everyone, for joining me.'"
Through the generosity of donors who made memorial contributions, the Communication Aids and Systems Clinic is organizing a future event to celebrate Eva's legacy and build connections between other individuals and families in the Rett Syndrome community.
| | |
| --- | --- |
| Your support makes a difference. Donate now to advance knowledge about human development, developmental disabilities, and neurodegenerative diseases through research, services, training, and community outreach. | DONATE NOW |