By: Charlene N. Rivera-Bonet, Waisman Science Writer
The Waisman Center recently welcomed the first of four new principal investigators in communication sciences and disorders. Carlos Benítez-Barrera, PhD, who leads the Pediatric Auditory Experience and Brain lab, is interested in the impact of early auditory experiences, language development, and speech perception in kids and brings new technical expertise to help advance the field.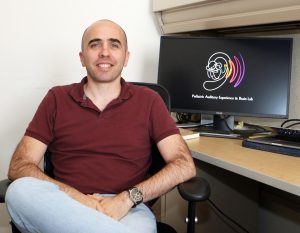 "This is one of the top programs in the US in communication sciences and disorders and audiology," Benítez-Barrera says. "When I got the offer from the department it was clear to me that I was going to accept."
Benítez-Barrera, a native of Spain, earned his bachelor's degree in psychology at the Universidad Autónoma de Madrid in Spain and his master's in early intervention for children with hearing loss at the Fontbonne University in Saint Louis, Missouri. He completed his doctoral degree in the department of hearing and speech sciences at Vanderbilt University, where he used electroencephalography (EEG) techniques to look at neuronal responses to speech and how the brain processes sound.
After his PhD, Benítez-Barrera spent some time as a postdoctoral fellow at the Callier Center for Communication Disorders of the University of Texas at Dallas, where he developed his own line of research. At Texas, he started looking at how being raised in a noisy environment – such as living close to train tracks, airports, or in a multigenerational household – affects language skills and development. As a Spanish-speaker himself, he was interested in how this particularly affected the Hispanic population. This is one of the multiple lines of research he will pursue at the Waisman Center. His hope is to expand the initial pilot study, and grow it into a multisite study in collaboration with the University of Texas at Dallas. A second research interest is how music training impacts noise perception. In particular, Benítez-Barrera is interested in how playing a musical instrument and engaging with sound affects speech perception skills in children. Lastly, Benítez-Barrera plans to use EEG to look at how the brain encodes speech in noisy environments.
"The good thing [about the Waisman Center] is that it's not just hearing loss. There are many other disabilities that are studied here like Down syndrome and autism. And that allows you to collaborate with different people," Benítez-Barrera says. He is already involved in a project looking at speech perception in kids with Down syndrome with Waisman Center investigator Ruth Litovsky, PhD, UW-Madison Professor of Communication and Sciences & Disorders and Surgery, Division of Otolaryngology. Benítez-Barrera will bring his EEG expertise into the project with Litovsky. "I think that's going to expand my area of research a little bit, which is great," Benítez-Barrera says.
A major focus of Benítez-Barrera's research and mentoring will be on Hispanics. "In our field, Hispanics are underrepresented for many reasons. And particularly first-generation students. So, one of my goals is to recruit some Spanish-speaking research assistants, students, and postdocs," Benítez-Barrera says.
In addition to his notable excitement for research, Benítez-Barrera is looking forward to teaching undergraduate courses. "These are students that don't really know much about the field [of audiology]. My class might be their first contact with hearing sciences. So, I'm looking forward to sparking their interest in the field," Benítez-Barrera says.
Outside of the lab, Benítez-Barrera enjoys reading about science, philosophy and economics, playing and watching soccer, running, and hanging out with his three kids.
| | |
| --- | --- |
| Your support makes a difference. Donate now to advance knowledge about human development, developmental disabilities, and neurodegenerative diseases through research, services, training, and community outreach. | DONATE NOW |