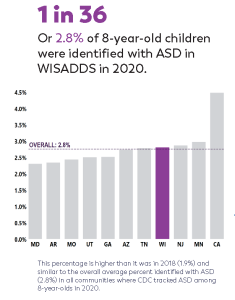 The Centers for Disease Control and Prevention published the most recent numbers from the Autism and Developmental Disabilities Monitoring Network (ADDM) that shows an increase in autism prevalence and shifting demographics for diagnosis. The CDC found that 1 in 36 (2.8%) 8-year-old kids were diagnosed with autism which is an increase from the 1 in 44 (2.3%) that was reported in 2018. The prevalence for Wisconsin is 1 in 36 (2.8%), which is also an increase from previous reports.
The ADDM Network is a CDC-funded program that collects data to better understand the number and characteristics of children with autism spectrum disorder and other developmental disabilities, the CDC writes. Data are collected from 11 monitoring sites across the United States, with the Waisman Center being one of the 11 sites. The Wisconsin Surveillance of Autism and Other Developmental Disabilities System (WISADDS) is led by Maureen Durkin, PhD, DrPH, professor of population health sciences, pediatrics, and a Waisman investigator. The recently released numbers are for the year 2020.
Alongside the increase in autism prevalence, this was the first time the percentage of 8-year-old Black (2.9%), Hispanic (3.2%), and Asian or Pacific Islander (3.3%) children diagnosed with autism was higher than that of 8-year-old White children (2.4%). "This pattern is more in line with what was seen in other countries," Durkin says. "In this latest surveillance year, things have completely shifted and we are actually seeing more autism in lower income children now. Part of that increase could be due to refinements in our surveillance method that may make it is less biased."
This is also the first year where the CDC reported that the prevalence of autism in girls has exceeded one percent. The prevalence of autism is still four times higher in boys than girls, but these new numbers show that the prevalence is increasing for girls as well. "We have also found that autistic girls are more likely to have co-occurring intellectual disabilities than boys," Durkin says. "This year's numbers could indicate a greater need for understanding why that is and perhaps a greater need for earlier intervention for girls."
Across the nation and especially in Wisconsin, the number of Hispanic kids with autism has risen dramatically. Durkin says that there is still little understanding as to why this is happening but it could indicate a greater need for more resources to serve and support the Hispanic community not just in Wisconsin but nationwide.
The work that Durkin, WISADDS, and the ADDM Network do continues to provide important data on autism prevalence that may lead to a better understanding of the condition, spotlights on areas of need, and new directions for resources and interventions.