By Charlene N. Rivera-Bonet, Waisman Science Writer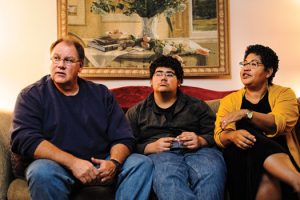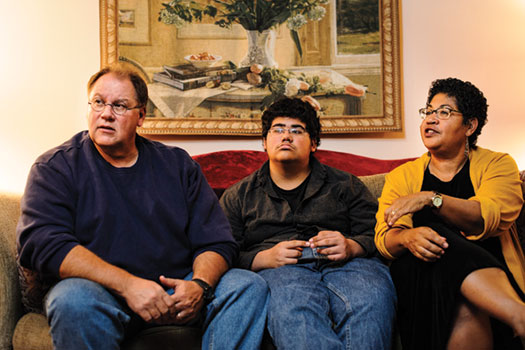 It wasn't the reason for their visit. Chan Stroman calls it a fluke. But walking down the halls of the Waisman Center, her husband John Roll saw a flyer that was the answer to one of their pressing concerns regarding their son, James Roll. His transition to adulthood.
They had been actively advocating for James' educational experience, and were eager to learn more about other ways they could support him. So, the advertisement for Transitioning Together, a program that provides support for adolescents with autism and their families during the transition into adulthood, got their attention.
James was diagnosed with autism spectrum disorder (ASD) at the Waisman Center when he was 13. "As parents, we were very frustrated at the barriers we were facing in the school system and getting any kind of help, any kind of recognition. Transitioning Together was great, because it really addressed education, employment, and independent living," says Stroman.
Transitioning Together is a multi-family group psychoeducation program resulting from more than 20 years of research at the Lifespan Family Research lab led by Marsha Mailick, PhD, emeritus vice chancellor for research and graduate education and Leann DaWalt, PhD, director of the Waisman Center University Center for Excellence in Developmental Disabilities. Data collected through the Adolescents and Adults with Autism (AAA) study gave the researchers insight into the needs of autistic individuals and their families across the life course. Based on those needs, they developed the program to provide education and support to parents, foster social interaction and learning for adolescents, and emphasize positivity and problem solving, focused on the transition into adulthood.
"We all kind of need help with this [stage] and this program just offers a neurodiverse approach for it," says Madeline Barger, MS, LMFT, BCBA, CST, a licensed behavior analyst and licensed marriage and family therapist who provides Transitioning Together through the Autism Treatment Program at the Waisman Center.
Along with the big changes everyone experiences during the transition into adulthood, individuals with autism face unique challenges such as a decrease in the resources available to them as they lose services through the school, adapting to changes in routines, and establishing connections with other families that are going through the same process.
The program includes eight sessions, in which multiple families (six on average) come together, with parents or caregivers in one room and adolescents in a separate room. "It's a group-based experience and there's opportunity for the parents to do their own learning, their own dialogue, their own problem solving, which is independent of what the autistic youth may be doing in terms of their learning and socializing," DaWalt explains. In the last few years, the groups have mostly been meeting online since the start of the COVID-19 pandemic.
What the program looks like for caregivers
Alyssa Walsh, PhD, a licensed psychologist in the Autism Treatment Program, often leads the parents or caregivers' session. Their meeting agenda always includes a check-in, in which parents share a high and a low from the week. They then discuss topics such as employment and college planning, family topics, behavior management for late adolescence and early adulthood, finding community, long-term planning, and health and well-being. Parents also receive information on local resources that are in place to aid the transition process.
"To actually have a program that approached each of those things methodically, and gave us a roadmap even after the program was over, gave us a better sense of where to start exploring further resources in that area. And that was extremely helpful," Stroman says.
Another main component of the parent group is going through a problem-solving process together. For each activity, the group chooses one problem a family is facing, then works together to select strategies that the family can implement. Families later share updates on how those strategies worked. This gives them not only valuable knowledge on the resources, but also connections to other families that share a similar journey, and an opportunity to learn from others' experiences. "Nobody has the same experiences, but maybe they have some similarities that they can connect with throughout their journey and learn from each other," Walsh says.
Teens in transition
Social worlds change with the transition into adulthood. There are no longer structured interactions with other people as adolescents transition out of high school. Autistic individuals may struggle with social challenges, and how to stay connected in the world through this stage. "So, we offer that positive experience as a way for them to explore that with each other," Barger says.
Barger leads many of the adolescent groups through Transitioning Together. While parents meet, the teens get together in a social group tailored to their specific needs. It is designed to provide an enjoyable experience with exposure to learning activities.
"I remember going to the Waisman Center and participating. I really enjoyed interacting with the other kids there and having things in common with the other kids," says James Roll, who participated in the program when he was in high school.
In addition to promoting a comfortable environment to develop social interactions, they talk about common challenges adolescents face going into adulthood. This can include completing chores, applying for jobs, budgeting, social planning, coping strategies, and problem-solving. It fosters independent living and self-management. "All the things that in life tend to be hard for all of us, and especially at that transition point, what we try to do is talk about them in a safe, positive way, but then also have evidence-based ways to deliver the information for autism or unique neurology," Barger says. They incorporate visuals, checkboxes, and other tools to better explain concepts of adulting.
In addition to the joint sessions, the families get individual sessions in which the teen and parents, siblings, grandparents, or important people in the teen's life can get together and have conversations about their goals, hopes, and interests. "There is an ongoing emphasis on the family being together throughout the experience of Transitioning Together," DaWalt says.
Through the United States and Canada
The Transitioning Together curriculum is adaptable to different settings, including clinical settings and school settings. Because of its unique design and positive impacts, it has been adopted in 11 states outside of Wisconsin, and Canada. DaWalt and her team offer training for others to be able to provide the program. Each place, however, is in charge of making their resources local and relevant to their area.
Cindy Hartman has offered more than five sessions of Transitioning Together in Ontario, Canada. Hartman is a family peer mentor at York Support Services Network, which provides support to individuals with serious mental illness, developmental disabilities, or complex needs. She is also a mom of a 25-year-old with ASD. "I was very passionate about wanting to do this Transitioning Together series, because the reality is they're all going to transition into adulthood. And a lot of the supports and a lot of the things that they had when they were younger, as soon as they become adults, fall off," Hartman says.
Hartman and her team at York trained with DaWalt and Kate Szidon, outreach program manager of Transitioning Together, on how to establish the curriculum. After the training, they got funded through Autism Speaks Canada, and created a multi-agency partnership where each agency took specific modules to teach.
Another task was making the resources Ontario-specific. "Very quickly we had to gather a team to put together all of the resources, because even the financial components, the educational planning, employment planning, looks a little bit different here than it would be if we were in the United States," Hartman says.
Hartman's team has a unique touch to it, too. Every session has a facilitator with a lived experience with ASD. "So, for [the parents], they felt like it wasn't just us giving them information. They know that a lot of the information, we too, have tried," Hartman says. "They felt like we really understood what they were going through. That we were kind of going along this journey with them."
Program impact on teens and families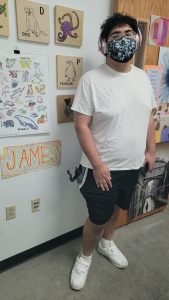 Implementation of the program has had much success and positive impact in the lives of the autistic youth and their families that have participated. For families, parents report improved problem-solving skills, an increase in feeling proud of their adolescent, and feeling lower levels of burden in their interaction with their teens. Depressive symptoms for parents also reduced over time as a result of the intervention and their own improvements in their relationship with their child. The families also report that they enjoy the community and opportunity to come together with other families who share similar experiences.
After the program, Stroman ended up diving deeper into resources for James. "It was nice to know that if we had to do it on our own, which we did, it was not just a black hole. There were specific things that we determined and had more of an idea of how to successfully pursue thanks to Transitioning Together," Stroman says.
In Hartman's experience, the session on caregiver health and wellness is one of the most engaging. "Everybody says they didn't realize how important it was. It helped them in terms of being able to be better prepared to deal with all of the other components, whether it was employment or post-secondary," she says.
For the youth, they remark that being together with other people on the spectrum is fun, and it helps reduce the anxiety surrounding social interactions. They also enjoy the approach the program takes on problem solving. "I think some ways the Waisman Center helped me in social interaction and making friends more easy and more comfortable," James Roll says. Now 25 and a self-employed artist, he continues his art at the studios at ArtWorking. "He is very talented and prolific and has had success with people liking and buying his work," his mom says.
Transitioning Together focuses on the strengths of autistic youth. "This approach provides an opportunity for youth to lean into their strengths and grow together with other youth. It values the unique contribution of autistic youth and is a true partnership with families," DaWalt says.
Expanding the reach
Although the program has expanded outside the United States, there is still room for growth and inclusion of more communities. Jocelyn Khun, PhD, assistant professor of pediatrics at Boston University School of Medicine, and former LEND (Leadership Education in Neurodevelopmental and related Disabilities Program) trainee at the Waisman Center, works with DaWalt and other providers to modify and adapt the program for different cultural and linguistic groups. An example of this is the adaptation of the program for Spanish-speaking families of autistic adolescents in Chicago in partnership with Sandy Magana, PhD, professor in autism and neurodevelopmental disabilities at the University of Texas at Austin, and former postdoctoral fellow at the Waisman Center and faculty in the School of Social Work at UW-Madison. For this, they reviewed literature on cultural adaptation for the Hispanic community, met with community stakeholders, and piloted a revised version of the model, taking not just language, but also culture, into consideration.
They have also expanded the reach to autistic adults and their families through a program called Working Together, a multi-family group psychoeducation intervention designed to increase engagement in meaningful activities, both paid and unpaid, and improve behavioral functioning for autistic adults.
DaWalt also aims to be able to provide this program for families with youth with other disabilities in the future by making it more specific to cover the unique needs or challenges that each teen faces during the transition into adulthood.
| | |
| --- | --- |
| Your support makes a difference. Donate now to advance knowledge about human development, developmental disabilities, and neurodegenerative diseases through research, services, training, and community outreach. | DONATE NOW |
---
Learn more about the Waisman Center's 50th Anniversary, including events, history, stories and images:
50 Years | 1973 - 2023
---