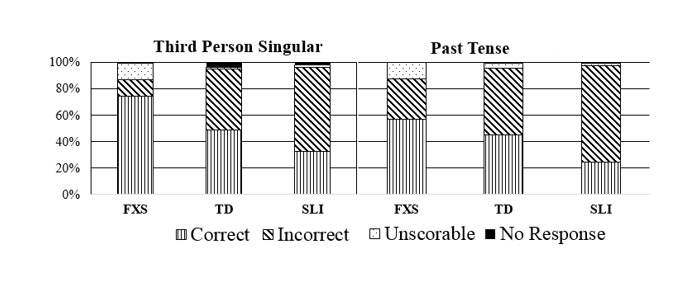 Title: Examining the Language Phenotype in Children with Typical Development, Specific Language Impairment, and Fragile X Syndrome
Legend: Group performance on the Third Person Singular Probe and Past Tense Probe of the Test of Early Grammatical Impairment
Citation: Haebig, E., Sterling, A., & Hoover, J. (in press). Examining the language phenotype in children with typical development, Specific Language Impairment, and fragile X syndrome. Journal of Speech, Language, and Hearing Research.
Abstract: 
Purpose: One aspect of morphosyntax, finiteness marking, was compared in children with fragile X syndrome (FXS), specific language impairment (SLI), and typical development matched on MLU.
Method: Nineteen children with typical development (mean age = 3.3 years), twenty children with SLI (mean age = 4.9 years), and seventeen boys with FXS (mean age = 11.9 years) completed the Test of Early Grammatical Impairment (TEGI; Rice & Wexler, 2001), and other cognitive and language assessments. Quantitative comparisons on finiteness marking and qualitative comparisons of unscorable (i.e., non-target) TEGI responses were conducted.
Results: Children with typical development and FXS performed better on finiteness marking than children with SLI. While unscorable responses were infrequent, boys with FXS produced more unscorable responses than children with typical development and SLI.
Conclusions: Although boys with FXS have language deficits, they performed similarly to MLU-matched typically developing children on finiteness marking. This language profile differs from children with SLI, who present with a delay-within-a-delay profile, with finiteness marking delays that exceed delays in MLU. Unscorable responses produced by the boys with FXS may reflect pragmatic deficits, which are prominent in this population. Assessment procedures should be carefully considered when examining language in boys with FXS.
About the lab: The Research in Neurodevelopmental Disabilities Lab (RIDDL) is interested in the development of language and cognitive skills in children and adults with neurodevelopmental disabilities. Through our work we hope to inform both clinical work and theory on issues surrounding assessment and treatment of language, the impact of additional diagnoses on language and behavior, and overlap between syndromes. We work with families who have children with fragile X syndrome, autism spectrum disorders, and Down syndrome.