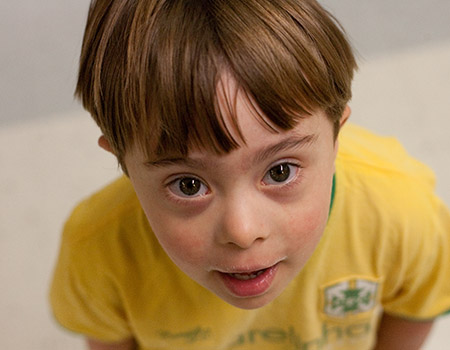 The Waisman Center is one of 25 recipients to receive funding through a National Institutes of Health (NIH) grant that focuses on advancing research on Down syndrome. The grant is part of the NIH Investigation of Co-occurring Conditions Across the Lifespan to Understand Down Syndrome (INCLUDE) project.
INCLUDE is a trans-NIH effort that will fund research investigating critical health and quality-of-life needs for individuals with Down syndrome, while simultaneously investigating the risk and resilience factors for co-occurring conditions shared with individuals who do not have Down syndrome. The project was launched in 2018 with $22.2 million dedicated for research by NIH.
"Individuals with Down syndrome are both affected by and protected against many of the conditions that afflict the general population," said NIH Director Francis S. Collins, MD, PhD. "By improving our understanding of the basic biological mechanisms of Down syndrome, and making clinical trials more accessible and specifically tailored to individuals with Down syndrome, we expect that research from the INCLUDE project will benefit everyone."
The Waisman Center project will build a cohort of children and youth with Down syndrome that will include a database and biobank that can be used for comprehensive clinical research and future clinical trials. No such cohort focused on individuals under the age of 18 currently exists. The project builds upon the center's Down Syndrome Clinic, nationally recognized Down syndrome research, and the Clinical Translational Core (supported by the NICHD-funded Waisman Intellectual and Developmental Disabilities Research Center grant). Establishing this cohort will help researchers integrate demographic, clinical, genomic, and neurobehavioral data to better understand the development and function of individuals with Down syndrome and provide critical measures and information for future clinical trials.
Qiang Chang, PhD; Maria Stanley, MD; Sigan Hartley, PhD; and Daifeng Wang, PhD, will lead the Waisman Center project with support from the Down Syndrome Clinic and the Clinical Translational Core.