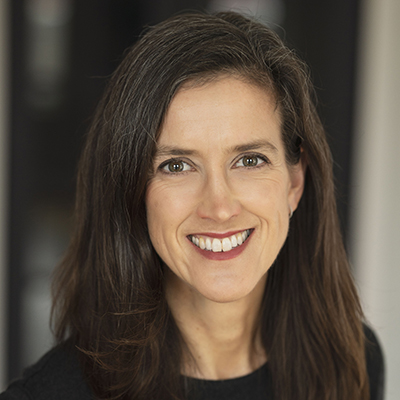 The adaptability of children with disabilities has inspired Bernadette Gillick, PhD, MSPT, PT for the majority of her career. A physical therapist and neuroscientist, her research focuses on recovery and development in infants who have suffered a stroke between the third trimester in utero and the first month of life.
"Children are so incredibly resilient," she says. "Coupled with the heightened neuroplasticity of the brain's ability to rewire itself and to use different areas for functions that we don't typically think happen in those regions, they're remarkable." Gillick joined UW-Madison on February 1 as an associate professor in the Department of Pediatrics and a Waisman investigator.
Neuroplasticity is the ability of the brain's neural networks to adapt and relearn how to function – especially in cases of trauma or injury. In the new Waisman-based Pediatric Neuromodulation Laboratory, Gillick and her team use brain stimulation therapies to enhance the neuroplasticity of these networks in children with brain trauma or stroke. She combines such brain stimulation technologies with rehabilitation techniques she learned in her many years as a pediatric physical therapist in the clinical setting.
"When you hear 'pediatric' and 'brain stimulation', you think 'vulnerable' and 'scary'," she says. "Yet remarkably, around the world, motivated families are buying brain stimulation units online and putting them on their own children's heads because they see ads about how they'll make them well or improve their function. Wouldn't it be better to have a highly qualified and trained scientist asking the questions and looking at this formally with oversight in the laboratory?"
By combining these therapies, Gillick tries to identify and activate the functional cells in areas of the brain that suffered during the stroke. "The potential for wiring in the brain is often still there," she says. "How do we engage inactive but viable cells while a child is doing rehabilitation, to try to maximize recovery or rewire those connections?"
Though predominately a neuroscientist with decades of clinical practice, Gillick does not describe herself as a bench scientist, but as a "translational human clinical trial" scientist.
"Working with children, they're sitting in front of you and you're looking at them, thinking about their future," she says. "You're trying to help them grow and develop and maximize their potential."
On-the-job learning
Gillick divided her education into phases, supplementing her degrees with years of clinical experience.
Prior to getting her master's degree in neurologic physical therapy, Gillick spent three years as an active clinical physical therapist with a bachelor's degree from Marquette University. During this period, she became more interested in small children who had a brain injury from either a stroke or spinal cord injury and the potential interventions that may improve outcomes throughout their lifespan.
Then she went to Chicago Medical School (now Rosalind Franklin University) where she obtained her master's degree in neurologic physical therapy. Shortly afterward, she was offered a contract to manage a rehabilitation hospital in Anchorage, Alaska.
"Two months later, I got in my car and drove to Alaska and ran a hospital!" she says.
To fulfill the two-year contract, Gillick managed the hospital's rehabilitation department herself while also treating patients across the lifespan. Once her contract was up, she became a full-time physical therapist for the Anchorage school district, driving from rural village to rural village to see her young patients. Additionally, she taught neuroanatomy, anatomy and physiology at the University of Alaska. "I ended up staying for seven years over the two that I was originally going to be there," she says.
Living with a disability can be a struggle in even the most accommodating of circumstances – but Gillick's patients were also living in the often extreme environments of the Alaskan tundra, and in areas that lack proper access to clinical and therapeutic resources. "You've got to figure out how to get help if you've got a disability in this very unique environment," Gillick says. "The families often showed me how they did it, and they were very resourceful!"
After seven years seeing to the needs of rural Alaskan communities, and another chapter working as a physical therapist at Seattle Children's Hospital and Seattle University, she eventually moved back to the Midwest to begin her PhD in rehabilitation science and neuroscience from the University of Minnesota. It was there that she established her first research lab, which she now brings to the Waisman Center.
A lab for everyone
Gillick says that one of her greatest highlights in research is when she tells a child that she isn't sure her research will help them, but they choose to participate anyway because it may help another child. "It's pretty easy to work with this crowd because they just floor you on a daily basis," she says. "To witness some of the biggest struggles that children and families have in their lives and to think that we may make a small difference in their lives – it's powerful."
She is also bringing several members of her lab with her to the Waisman Center. "It's exciting because these people are the future of research and I am witness to all the wonderful goals they have," she says. "If I can provide a supportive environment in which they have the freedom to grow and be the next generation of researchers, that's outstanding! Someone did that for me once, too. It's kind of the circle of research."
In addition to her own research, she will begin a few different collaborations with four other labs on campus, including a National Institutes of Health project on infant stroke with UW professors of pediatrics Ryan McAdams, MD, and Doug Dean, PhD, who is also a Waisman investigator. When asked why she wanted to work at the Waisman Center, she says, "The fact that under one roof, there's this diversity of different researchers and clinicians working together, challenging each other and asking different questions – it's incredible! I love working with different disciplines because then I get pushed to think about things much differently than I alone ever would."
Gillick says she hopes that her lab isn't thought of as just her lab, but aims to cultivate a place that will grow to support the research of many other investigators.
"This is about child development," she says. "This is about intersecting basic and translational science together to say, 'How can we help children?' That's where I am in my own career. I'd like to be able to help others be productive in their research and to contribute to improving the lives of children for a lifetime."