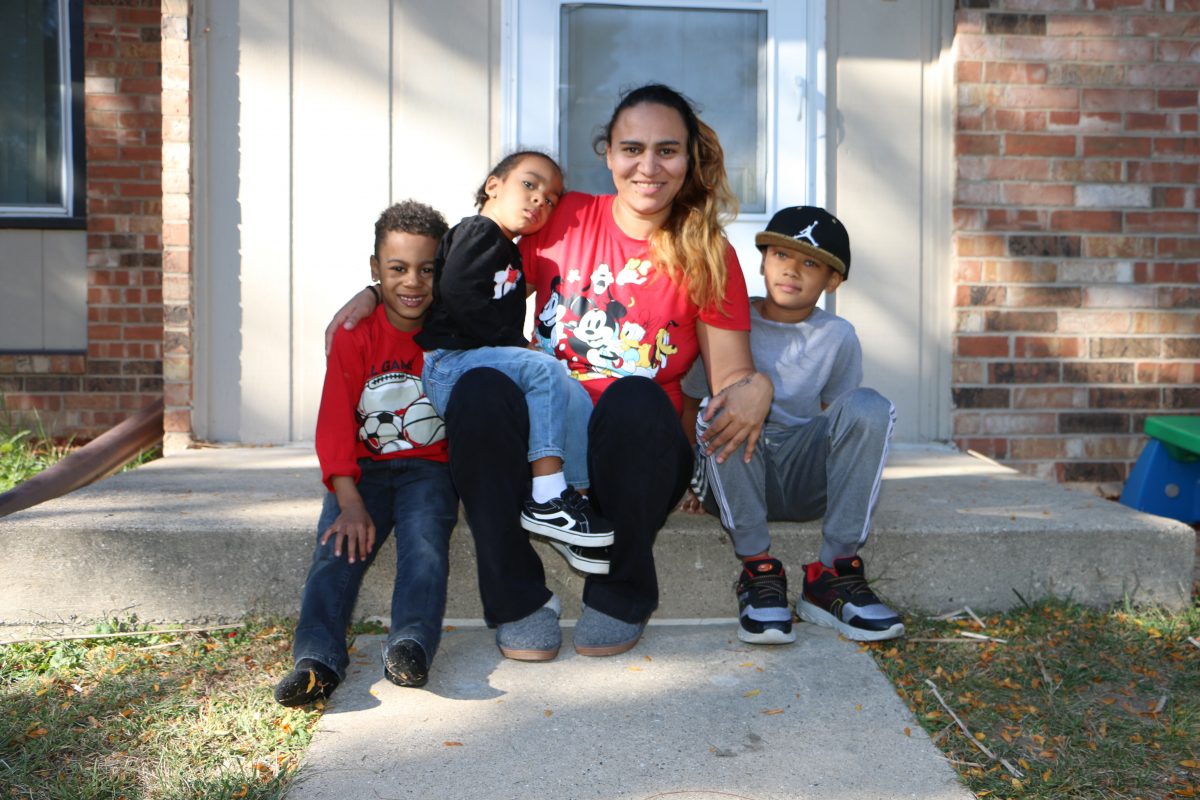 By Emily Leclerc, Science Writer, Waisman Center
Tiaunta Martin is a proud mom of three boys. They are bright-eyed, energetic, and usually a whirlwind of chaos. Her middle son, Benjamin or Benji for short, is a rambunctious six-year-old who keeps Tiaunta constantly on her toes. "He's the sweetest adorable child in the world. Very hyper and outgoing, sometimes a little too much. But, he is the most precious child," Tiaunta says.
Benji was recently diagnosed with autism at the Waisman Center and, along with his endearing smile and bubbly personality, Benji had some behaviors that were leaving Tiaunta fearful for her son's safety. He would run out the front door while no one was watching. Go through the knife drawer or chemical closet. Or climb into the refrigerator. Having two other children to look after and a full-time job, Tiaunta could not always have both eyes on Benji. She was always worried for his safety.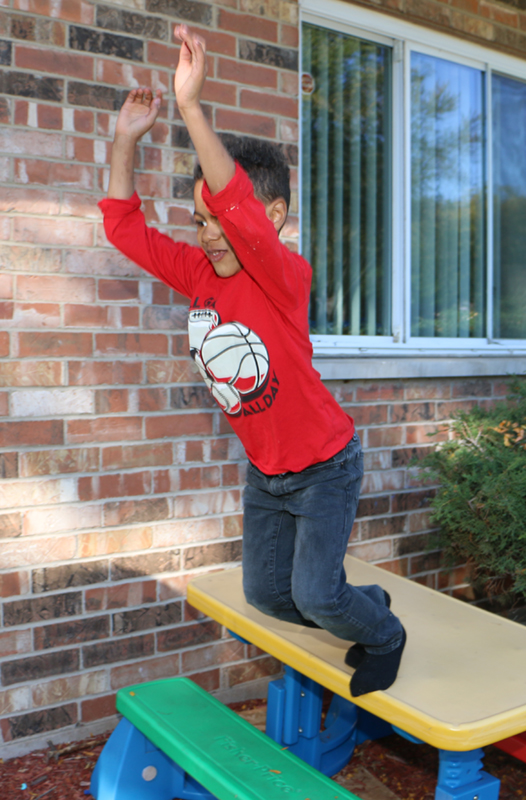 While at the Waisman Center with Benji, Tiaunta mentioned her concerns to one of the clinic's family navigators. That's when she was told about the Waisman Center's SaferKids Program. The family navigator explained to Tiaunta that the grant could help provide her with some tools and resources to make it easier to keep Benji safe. "In my heart, I knew this was the perfect program for us," Tiaunta says.
The Waisman Center's SaferKids Program, in partnership with the Safety Center at the American Family Children's Hospital, helps provide safety equipment and resources to children with disabilities and their families referred through several programs at the Waisman Center. Children with disabilities, such as autism in Benji's case, may present a variety of behavioral issues that can endanger their safety and it can be hard for parents to manage those behaviors without assistance. The grant was established to provide these families with equipment to make it easier to keep their child safe.
"It started with concerns that we were hearing. These children had a lot of safety concerns and no real access to funding to help pay for safety items," says Michelle Schumacher, MSSW, a social worker and family navigator at the Waisman Center. Schumacher is also the coordinator for the SaferKids Program, which is currently part of the Wisconsin Care Integration Initiative at Waisman. "The grant is primarily focused on helping medically underserved families whose children are ages birth-to-five who have developmental concerns, primarily autism, which puts them at increased risk for wandering and other safety concerns."
Children with autism engage in many of the potentially dangerous behaviors that other young children do such as getting into drawers or closets they aren't supposed to or playing with electrical sockets. The issue becomes that children with autism may have trouble understanding safety issues due to communication, attention, and learning difficulties. Kids with autism are also prone to wandering and will often leave the home unaccompanied without their parents' knowledge. There are many reasons a child may wander but common ones include that they enjoy running, they want to go somewhere they enjoy, or they are trying to escape a stressful situation. These behaviors can be upsetting for parents, especially if they cannot afford safety equipment to help prevent the behaviors. That's the gap the SaferKids Program is looking to fill.
Once a family is referred to the program, they have a consultation with an expert from the Safety Center at the American Family Children's Hospital. The consultation is used to determine which equipment could provide the most benefit to the family and tailor the products to the family's specific needs. "Things like door locks, door alarms and appliance locks are quite common. Furniture brackets to keep heavy furniture from tipping over. Gates are also pretty common," Schumacher says. "They can also provide things like temporary ID bracelets so parents know that, if their child wanders, whoever finds them has a way to identify them." When the family and expert have decided on an array of products, they are then shipped directly to the family's house with detailed instructions on how to install them.
"The process is so easy, easier than I thought," Tiaunta says. "I thought I was going to have to fill out forms and do all this paperwork but it was just a phone call and a little bit of information. They ask you what you feel you need and deliver it right to your doorstep." She now has a gate in her kitchen, alarms on the front and back door, alarms on her front windows, safety doorknobs on the basement door and chemical closet and electrical outlet covers.
"The products aren't just keeping Benji safe, they're teaching him what's not okay," Tiaunta says. "They're teaching him boundaries. He's a visual learner, so he knows that all this is there because it's not okay." Without the SaferKids Program, Tiaunta says she would not have been able to afford the myriad of products she now uses to keep Benji safe.
Demetria Travis, a mother of seven, started to become increasingly worried about her son AJ's safety after she found him sitting in their oven. AJ, who is three, was diagnosed with autism early and likes to get into everything. "He's a very bright, very smart kid full of laughter and bubbles. But he is also a runner. He's a climber. He's just on the go," Demetria says. And with seven kids to look after, Demetria could not keep her eyes glued to AJ at all times.
"I received the referral [to the SaferKids Program] and someone called me and asked what my concerns were with AJ, and I said everything," Demetria says. "He climbs on everything. He likes to sit in the oven. He knows how to open doors. He does everything he's not supposed to. And they said we have some things that will help you out."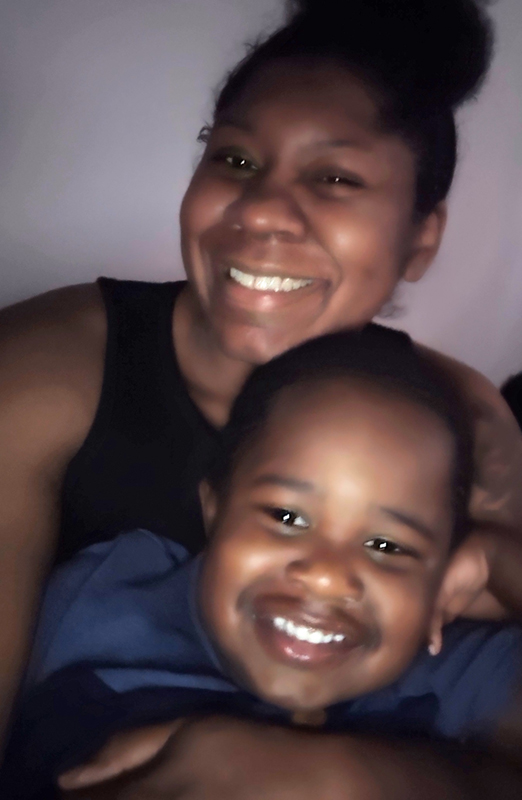 Now, with an oven latch, furniture brackets, cabinet locks, safety doorknobs, electrical outlet covers, and door alarms, Demetria can rest a little easier knowing that the products will keep AJ safe when she can't give him her undivided attention. Similar to Tiaunta, Demetria says that, without the grant, she could not have afforded all of the products she now uses around the house.
The SaferKids Program was designed to fill in support gaps for families that may be struggling to obtain safety products for their children with developmental disabilities before they have access to other funding. Schumacher is incredibly pleased that the grant is doing that successfully. "The families that have responded [to our survey], have said overwhelmingly that they are really satisfied with their services and they have overwhelmingly rated the safety information and products they have received as very helpful," Schumacher says.
Families also report that they feel respected when communicating with the Waisman Center and the Safety Center at the hospital. Knowing that you will be treated with respect and kindness is an important component in helping families obtain the support that they need. For Tiaunta and Demetria, the grant has provided them with some peace of mind and extra ways to keep their children safe.
"When places have programs that help people out like this, that's something I like to see. Because in other states, they don't have stuff like this," Tiaunta says. "It's amazing all the stuff [the grant] is able to help with and I think it's a really great program."
The SaferKids Program is made possible through the philanthropic support of the Evjue Foundation, the Green Bay Packers Foundation, and the Friends of the Waisman Center.
| | |
| --- | --- |
| Your support makes a difference. Donate now to advance knowledge about human development, developmental disabilities, and neurodegenerative diseases through research, services, training, and community outreach. | DONATE NOW |