By Charlene N. Rivera-Bonet, Waisman Science Writer
While working as a health care administrator in Santa Cruz, California during the 2015 Zika virus outbreak, Jose Martinez realized his background in chemistry and pharmacology could be harnessed to set policies that are grounded in science.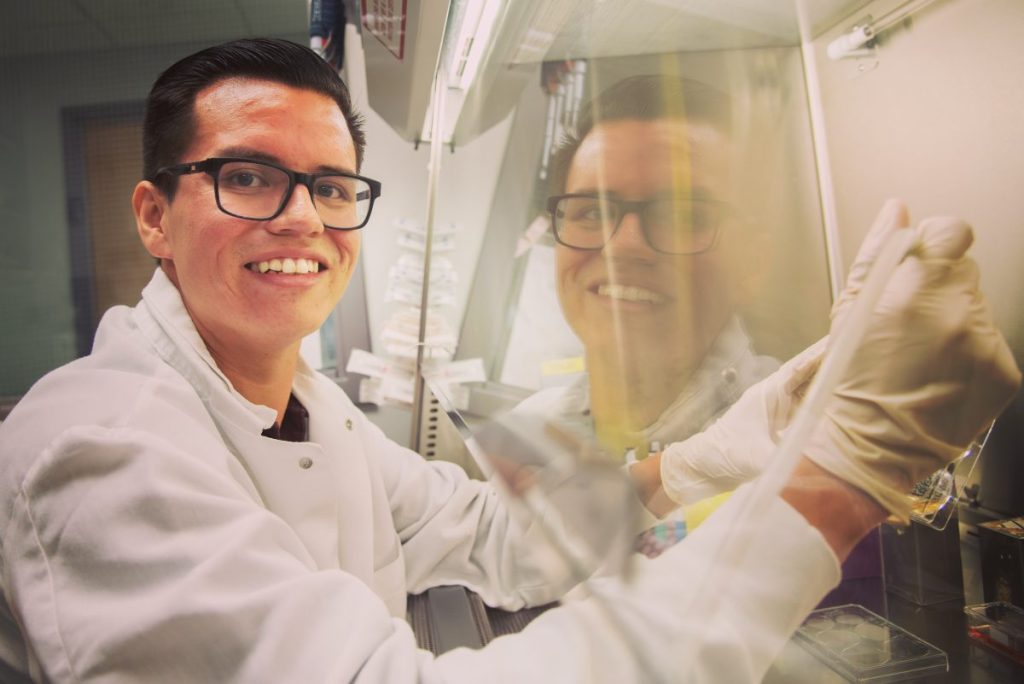 He then decided to go back to school for not one but two degrees.
"A lot of medicine is dictated by not only the science that helps you understand conditions, treatments and therapies, but also by the policies and politics…that healthcare providers work within to treat patients or the community that they're in," Martinez, now a fourth-year graduate student in the Cellular and Molecular Biology Graduate Program, says. "I decided I wanted to figure out a way to connect basic science and health care access."
Martinez joined UW–Madison in 2018 to simultaneously pursue a Masters of Public Affairs (M.P.A.) degree through the Robert M. La Follette School of Public Affairs and a Ph.D. in the CMB program.
As part of his work in the M.P.A. program, Martinez conducted studies involving naval law, the Milwaukee comptroller's office, and renewable energy and worked with the Wisconsin Health Professionals for Climate Action. Meanwhile, he was also working with professor Anita Bhattacharyya at the Waisman Center to study how individuals with Down Syndrome are impacted through age and may eventually develop Alzheimer's Disease.
Three things had drawn him to Bhattacharyya's lab: mentorship, science, and common interests.
"Being a first generation Mexican American, first-generation college graduate, and first-generation Ph.D. student in my family, I really wanted to find somebody that understood the complexities of identities. Anita Bhattacharyya was very open, helpful and kind, and was understanding of the externalities that come along with me as an individual and how to navigate those in grad school," Martinez says.
While Martinez fell in love with the work Bhattacharyya's lab does, it was her policy work and the atmosphere at the Waisman Center that cemented his decision to join her lab.
"She [Bhattacharyya] has been part of Wisconsin State Senate hearings on stem cell policy, she really understood that side of my interests," Martinez says. "And at the Waisman Center, we're accessible to patients. Patients can come in and hear about the science that's happening, and the scientists can listen to what the community needs."
A science policy internship (during a pandemic)
To tie together his interests in science and policy and apply what he learned as a student in the M.P.A. program, Martinez applied to the UW–Madison Biotechnology Training Program (BTP). The BTP offers opportunities, including focused coursework and an internship, for doctoral students to obtain training and experiences they might not otherwise.
For his own "real world" internship experience, Martinez joined the RAND Corporation as a graduate student summer associate in 2020. What was supposed to be a three-month, in-person internship turned into a remote internship when the COVID-19 pandemic hit. Then, when his internship ended, Martinez was invited to stay at RAND for an extra year as an adjunct researcher.
"It was a very unique experience, something that I am very interested in continuing to work on," Martinez says. "The internship allowed me to use my scientific skills to do in-depth literature reviews, but took it a step further by working with librarians at RAND who help expand or narrow down your research."
One of Martinez's projects assessed the differences in healthcare received by members of the United States military and civilians. His research found that moving between military bases is one of the biggest barriers to consistent healthcare for members of the military.
"People in the military need to travel, and a lot of that movement involves going from base to base. That disrupts healthcare," Martinez says. "That first project was a great experience since I was able to bring in a little bit of my past work experience in healthcare."
In another project, Martinez studied different models of brain blast exposure that spanned a variety of explosions, from fireworks to IEDs. He then helped to arrange a conference on the topic, bringing together specialists from science, policy and industry to discuss future directions for the research field.
Motivations and goals
Now that he's finished his M.P.A. degree and his time at RAND is over, Martinez says that he's focusing on his Ph.D. research while trying to stay tangentially involved in the policy world.
"Being a fourth-year grad student, I'm finally not taking additional classes, I've homed in on trying to get my research project a little bit back to pace," Martinez says. "I do have a pet project that I've been working on, a policy analysis on stem cell therapies for retinal degeneration and the need for an assessment in the United States. That's kind of a small way I keep in touch with the policy world."
After graduate school, Martinez sees his career going in one of two directions. The first, working for clients at a place like RAND and touching a broad range of topics. The second, an academic professorship that allows him to perform both basic science and policy research. Whichever path he pursues, he says, he will continue to draw his motivation from his parents and lived experiences.
"A big part of my motivation is having immigrant parents, who didn't have the opportunity to go past middle school in terms of their education, and yet found a way to put my siblings and me through university and have us all be successful individuals. In addition, experiencing the lack of access to therapeutics for individuals over time…there's a lot of factors that lead to quality of life other than focusing on how to extend the life of an individual without thinking about what's best for an individual and what they want over time," Martinez says.
This story was written by Catherine Steffel, Ph.D. Photo credit: Robin Davies, Department of Biochemistry. To read more about Martinez, who is also a SciMed Graduate Research Scholar and a University of Wisconsin Advanced Opportunities Fellow, visit the CMB program's Student Spotlight.
| | |
| --- | --- |
| Your support makes a difference. Donate now to advance knowledge about human development, developmental disabilities, and neurodegenerative diseases through research, services, training, and community outreach. | DONATE NOW |