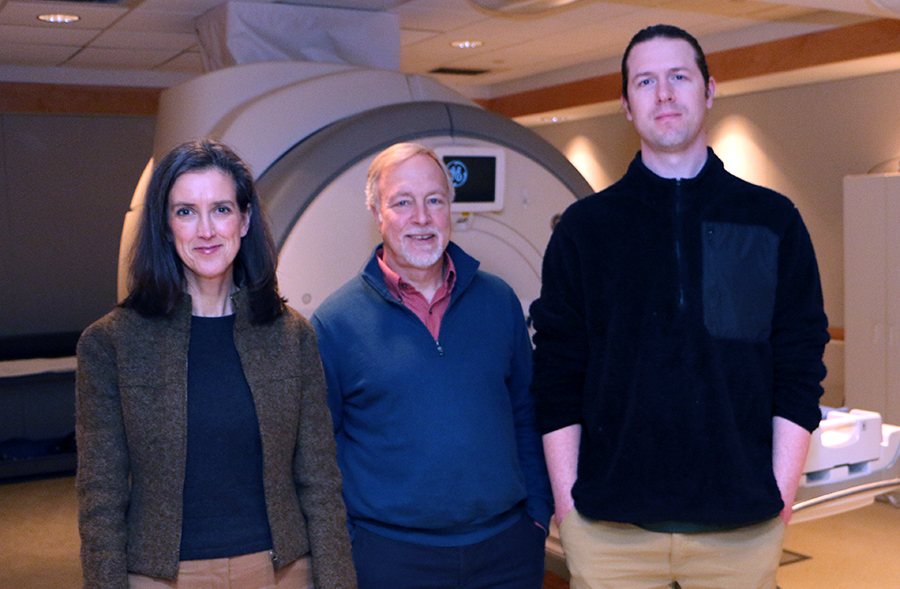 By Emily Leclerc, Waisman Science Writer
A team of investigators at the Waisman Center was recently awarded a $2.5 million grant from the Eunice Kennedy Shriver National Institute of Child Health and Human Development at the National Institutes of Health to both improve brain imaging techniques for infants and build a quantitative atlas of typical early brain development. They hope this atlas will make it easier to identify conditions such as cerebral palsy earlier in life.
Andrew Alexander, PhD, professor of medical physics and psychiatry, Bernadette Gillick, PhD, MSPT, PT, associate professor of developmental pediatrics and rehabilitation medicine, and Steve Kecskemeti, PhD, scientist will lead the grant as MPIs alongside co-investigators Doug Dean III, PhD, assistant professor of pediatrics and medical physics, Kevin Johnson, PhD, assistant professor of medical physics and radiology, and Laura Eisenmenger, MD, assistant professor of radiology, associate chief of MRI, and medical director of imaging services at the Wisconsin Institutes for Medical Research.
The grant has three primary goals: the first is to refine a novel magnetic resonance imaging (MRI) technique developed by Kecskemeti and Alexander to be more suitable for studies of infants and young children by making it quieter and faster; the second is to construct an age-dependent brain atlas of typically developing children for evaluating brain growth and maturation; and the third is to apply the new techniques to children at risk for cerebral palsy to see if it can diagnose the condition earlier.
The grant will utilize a novel MRI technique, called MPnRAGE, that Kecskemeti developed that can produce quantitative measurements that are highly sensitive to myelin changes in the brain. Degradation of myelin, which is a coating that covers nerve cells to increase efficiency of neuronal communication, is implicated in a variety of conditions such as cerebral palsy. "[Kecskemeti] also developed a retrospective motion correction technique that uses the data to estimate how much motion there was during the scan and then correct for it in reconstruction [of the images]," Alexander says.  This has allowed the technique to consistently produce high quality images, even in subjects such as children who have trouble remaining still. This imaging technique has the potential to be very useful in finding abnormalities in young brains because of both its sensitivity to changes in myelin and insensitivity to participant motion.
Unfortunately, this MRI technique is especially loud and attempting to decrease the noise extends the length of the scan. "A lot of motivation behind the first goal of the grant is to be able to image infants but the technique is really loud, roughly as loud as a chainsaw," Kecskemeti says. "We have some basic techniques to make the scanner quieter but that doubles the amount of time they need to be in there. So, our first aim is to make it quieter and also make it faster to be able to scan infants easier and we think we have some innovative ways to do that."
From there, Alexander and Kecskemeti plan to apply this improved technique to typically developing children from birth until age two. This will not only allow them to ensure this technique works in children that young but also begin the process of building an atlas of typical brain development in infants. This atlas will provide valuable information on what typical brain development looks like and potentially make it easier to identify atypical brain development.
In collaboration with Gillick, the team will apply this MRI technique and newly built atlas to children with cerebral palsy. "We want to see if this technique alongside our atlas of data will be able to better detect where there are lesions or impairments in myelination," Alexander says. Cerebral palsy is often undiagnosed until the age of two and typically, the earlier treatment starts the better outcomes a patient will have. Alexander, Kecskemeti, and Gillick hope that this technique could help to change that. "We're going to be scanning children from zero-to-24 months and hopefully we can find these subtle markers in the data that would allow therapy at an earlier age to put the patient on a different trajectory of treatment," Kecskemeti says.
Gillick is particularly excited about the potential impact this grant could have on how cerebral palsy is diagnosed. "The importance of this grant is its translational nature in how we can influence care for those who are typically developing and those with childhood onset diagnoses," Gillick says. "It could make a huge impact on how brain scans are performed and expand the benefit of MRI in pediatric health care."
| | |
| --- | --- |
| Your support makes a difference. Donate now to advance knowledge about human development, developmental disabilities, and neurodegenerative diseases through research, services, training, and community outreach. | DONATE NOW |