By Charlene N. Rivera-Bonet, Waisman Science Writer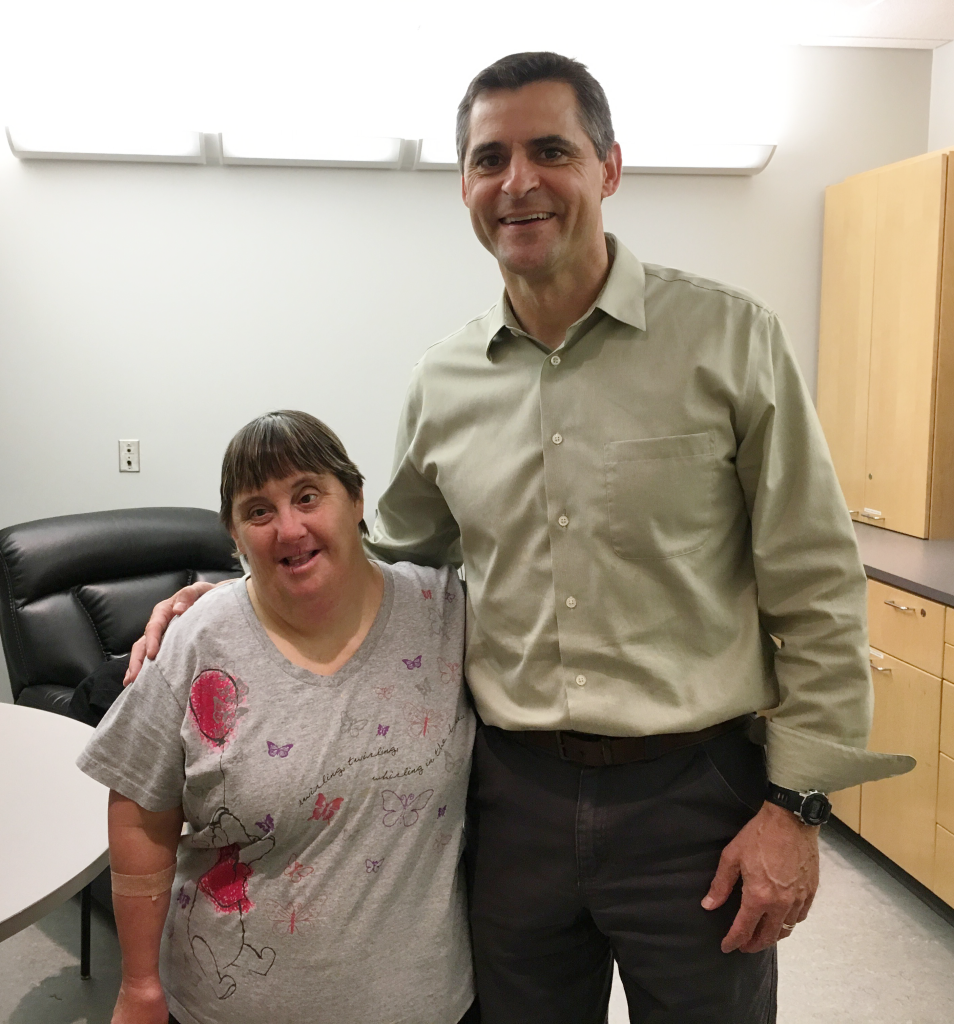 There are many reasons that families connect with the Waisman Center. For the Dewey family, it is Annie, a delightful and engaging woman, who loves people and is passionate about making a difference by participating in research. She also has Down syndrome. Annie has been part of a research study that looks at the development of Alzheimer's disease in Down syndrome. Her contributions to this study also inspired her brother Walter, and her mother Nancy, to contribute to the growth and advancement of the center by sharing their time, knowledge, and support.
Contributing to research
For more than a decade Annie, who is 52, has been part of a research study led by Waisman investigators Brad Christian, PhD, professor of medical physics and psychiatry and associate director of the Waisman Center, and Sigan Hartley, PhD, associate professor, 100 Women Chair in Human Ecology.
Among the things Annie enjoys, in addition to shopping, arts and crafts, and everything Disney, is participating in the research at Waisman. She looks forward to her visit every two years. "It's fun. And they make me happy," Annie says.
"To her it's an opportunity to see people she knows who are interested in her," Walter says. According to her brother, Annie has a very active personality, loves being around people, and is very loving toward her friends and family. "And she's excited about the idea of hopefully contributing to favorable solutions because she's a very loving person, and nothing has bothered her more than seeing friends pass away from [Alzheimer's]."
Individuals with Down syndrome are at higher risk of developing Alzheimer's disease, and it typically presents it at an earlier age than the general population. It is estimated that 90% of people with Down syndrome will have developed Alzheimer's by age 65.
Brad and Sigan investigate the course of Alzheimer's disease in individuals with Down syndrome by developing biomarkers and identifying risk and protective factors through a large, multi-site, longitudinal National Institutes of Health-funded study called Alzheimer's Biomarkers Consortium of Down Syndrome (ABC-DS).
According to Brad, one of the challenges of studying a disease that grows and accumulates as slow as Alzheimer's, is that there are no shortcuts to obtaining the information, which makes studies long. "I think that the Deweys have really illustrated that patience with it. Knowing that these things take time, knowing that it takes true dedication from the families to be willing to help us out," Brad says.
A typical research visit includes neuropsychological tests, neuroimaging scans, and blood sample collections. Annie's favorite part is seeing Brad and the team of researchers.
Annie's mom Nancy keeps her company whenever she visits. "She's there to help calm nerves, make sure everybody's at ease with what's going on, and really watching out for the interests of her child," Brad says.
"I think the Dewey family illustrates just how special all of our [participants] are," Brad says. "We've known Annie's brother Walter, who's very active here in the Waisman Center, and the Board of Visitors and has just been a real spokesperson for the research going on here."
Leading with care
Walter has been a member of the Waisman Board of Visitors (BOV) for more than 11 years. His role, as he describes it, is being the eyes and ears to the community. He provides insights to the leadership at Waisman about what the community needs are and ways to meet them. Conversely, he makes members of the community aware of the Waisman Center and the services it provides.
The mission of the Waisman Center's BOV, established in 1996, is to provide perspective and important connections with the business community and public policy makers. They also assist the Waisman Center director in strengthening partnerships with the private sector, provide advocacy network, and guide major fundraising efforts.
"Over the years, Walter Dewey has been an active advisor to me and consistently advanced the center's mission," says Qiang Chang, PhD, Waisman Center director and a professor of medical genetics and neurology. "As a member of the Waisman Biomanufacturing Advisory Board, he has played a major role, along with several other members, in guiding the unit to operational and financial success."
Walter got involved with the Waisman Center shortly before Annie did. He has always made it a priority to be involved in a number of activities in the community. One of them was being a board member at St. Coletta of Wisconsin, a non-profit organization that provides residential and vocational programs and services for persons with developmental disabilities, where Annie lived for a while. "But I was intrigued with what Waisman was doing. Primarily because of my interest in just seeing opportunity for my sister," Walter says. So, when Marsha Mailick, PhD, former director of the Waisman Center, approached him to be part of the BOV, he accepted.
Walter was also intrigued by the research done at Waisman and the unique collection of resources under one roof. A few years after Walter joined the BOV, Annie became part of Brad's research program. "Getting to know Brad and what he was doing was educational for me. And then it basically led to this opportunity with my mother wanting to make a gift of consequence," Walter says. From this, the Down Syndrome Catalyst Fund was born.
Inspired giving
In addition to participation in research and in the BOV, the Dewey family has given a monetary gift to the Waisman Center to help support Down syndrome research. The family's idea behind the donation was changing the status quo and impact the trajectory of the research. Their wish is that the funds be used to support early-stage research that does not already have funds from federal grants, such as pilot studies. Nancy looks forward to the results of this research. "I think it will be very interesting in the future," she says.
"Qiang did such an outstanding job of listening to what we were interested in from the standpoint of trying to do something different to affect outcomes for those with Down syndrome now," Walter says.
Anita Bhattacharyya, PhD, an assistant professor of cell and regenerative biology, and André Sousa, PhD, assistant professor of neuroscience, are the first recipients of this gift. They are collaborating on a research project that focuses on using stem cells to understand how brain development is altered in Down syndrome in ways that result in intellectual impairment.
"The new gift from the Dewey family will encourage interdisciplinary collaboration between basic research scientists and physicians to tackle critical questions in the Down syndrome field, and focus on supporting early stage research where extramural funding is limited," Qiang says.
The Waisman Center exists for and because of families such as the Deweys. Their dedication to both the research and service at the center has helped support the mission of advancing knowledge of human development, developmental disabilities, and neurodegenerative diseases.
"The way that I've sort of thought about this is not just getting folks that have Down syndrome to 50 but get them to 75 and have them be happy and productive people during that time," Walter says, "Waisman is on the cutting-edge of looking to achieve that goal."
Through research participation and support, and presence at the BOV the Dewey family has helped create a long-lasting impact that extends beyond the walls of the Waisman Center. It is because of the generosity of families like the Deweys that Waisman's mission can be accomplished.
| | |
| --- | --- |
| Your support makes a difference. Donate now to advance knowledge about human development, developmental disabilities, and neurodegenerative diseases through research, services, training, and community outreach. | DONATE NOW |