By Charlene N. Rivera-Bonet, Waisman Science Writer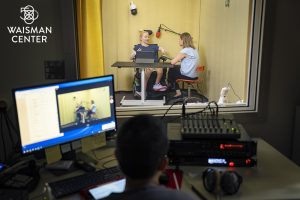 More than 10,000 children are born each year with cerebral palsy (CP) making it the most common motor disability in childhood. Characterized as a group of disorders that can affect an individual's ability to move and maintain balance and posture, and impact speech, CP is caused by damage to the brain before birth or during infancy that impacts a child's ability to control their muscles. Up to one-half of children with cerebral palsy may also have an intellectual disability.
Waisman researchers are committed to better understanding the causes and consequences of cerebral palsy in order to develop possible treatments and interventions to help improve the lives of individuals with cerebral palsy and their families.
Research on speech and language in cerebral palsy
Katherine Hustad, PhD, professor of communication sciences and disorders, studies communication development in children with cerebral palsy. Hustad's research seeks to: 1) develop and validate longitudinal models of speech and language development in children with cerebral palsy that can be used to predict outcomes, test interventions, and guide treatment decision-making; 2) develop growth curves for measures of speech development that allow us to differentiate typical from atypical speech early in life and enable earlier identification of speech problems; and 3) to develop and test speech interventions for improving intelligibility in children with cerebral palsy.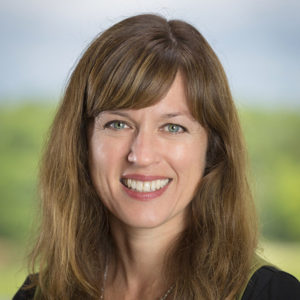 In 2004, a year after her arrival at Waisman, Hustad began a longitudinal project with a cohort of 130 children with cerebral palsy. Her lab, the Wisconsin Intelligibility, Speech and Communication Laboratory, has followed many of the children throughout their development, collecting data on speech, language, and communication skills. Many of the participants that started as kids are now young adults. "Our goal has been to ride along with the kids and their families to observe and experience their development with them, and to characterize the ways that their speech and language have changed and advanced over the course of their life," Hustad says.
Using these observations from children, they are working to identify the variables that predict communication abilities; they hope to be able to provide early intervention to those who need it to improve their outcomes later in life. "It's really all about quality of life, self-determination, and social participation. What are the ways that we can support the ability to communicate and help people maximally engage in and enjoy their lives?" Hustad says.
Her research has found that kids who are not producing words by the time they are two years old are more likely to have challenges with speech and need augmentative and alternative communication when they are older. Her work has also found that children who reach intelligibility thresholds of 25% and 50% at earlier ages have better intelligibility when they are older.
Hustad was recently awarded a new grant from the National Institutes of Health, along with colleagues at Arizona State University, to study speech sound articulation in children with cerebral palsy.  This work will lead to earlier identification of speech differences, particularly in kids with milder speech involvement.
The labs of Hustad, as well as Jenny Saffran, PhD, distinguished professor of psychology and Waisman Center investigator, have been developing new techniques to measure language abilities in kids with severe cerebral palsy since many with severe motor and speech impairments cannot participate in standardized testing.
"When I started this work 20 years ago at the Waisman Center, I was one of the only people in the country and really one of very few in the world who were working on communication in individuals with cerebral palsy," Hustad says. "Speech and communication have really lagged behind the study of motor development." But more recently, a big increase in research has occurred, with laboratories around the world doing more large-scale work on communication in individuals with cerebral palsy.
Being at the Waisman Center has facilitated recruitment of kids with cerebral palsy for Hustad's studies, both because of the reputation of the center, and because of synergy with the Cerebral Palsy Clinic and the Newborn Follow-Up Clinic.
Early interventions with rehabilitation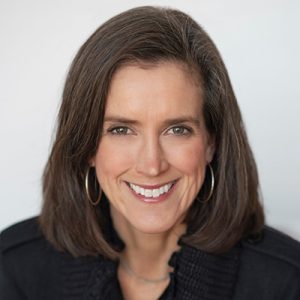 Cerebral palsy is commonly a result of early brain injury such as stroke. Bernadette Gillick, PhD, MSPT, PT, associate professor of developmental pediatrics and rehabilitation medicine is dedicated to studying how the brain recovers and develops after early brain injury, and the development of new interventions using rehabilitation to optimize lifelong outcomes. Her lab focuses on infants and children with early brain injury that results in cerebral palsy with the goal of promoting early diagnosis and improving treatments options.
In order to study how the brain develops and recovers after an injury, Gillick's Pediatric Neuromodulation Laboratory uses techniques such as magnetic resonance imaging (MRI) and non-invasive brain stimulation to explore  brain development in novel manner, as well as assessments of the kids' developmental milestones in relation to locomotion and movement.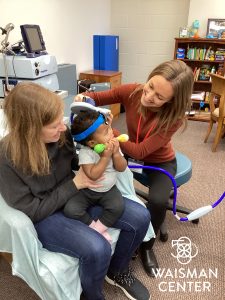 Neuromodulation using non-invasive brain stimulation refers to altering the activity of the cells in the brain. "[The stimulator] just gently rests on the outside of the head. We use pulses of energy to understand and influence how the brain is connected to the body," Gillick explains. We can measure how strong that signal is, how the brain is actually constructing its tracks and laying down its circuitry."
This technique of incorporating movement at the same time of delivering stimulation to the brain was pioneered by Dr. Gillick as the first exploration in children with cerebral palsy.  Her team has found that such a combined approach of stimulation and therapy significantly improves movement of an affected arm or hand after early brain injury.
In addition to her 5-year National Institutes of Health grant to explore how the brain develops after injury early in life, Gillick was recently awarded another grant by the National Institutes of Health along with investigators Andrew Alexander, PhD, professor of medical physics and psychiatry, and Steve Kecskemeti, PhD, scientist, to use a new MRI technique to build an atlas of typical brain development in infants zero-to-24 months. Using this atlas as a comparison, they hope to be able to identify subtle changes in the brain of infants with cerebral palsy that would allow for early identification and therapy.
Epidemiological data on cerebral palsy
To have a better understanding of the frequency and distribution of cerebral palsy in the population, epidemiologist Maureen Durkin, PhD, DrPH, professor of population health sciences and pediatrics, monitors the number of children with cerebral palsy through the Autism and Developmental Disabilities Monitoring (ADDM) Network.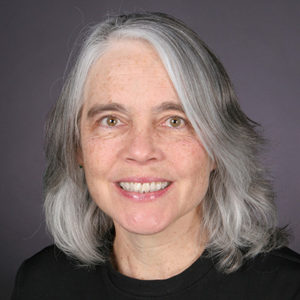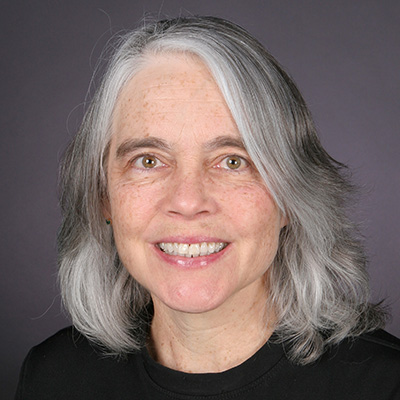 This type of public health surveillance describes how common cerebral palsy is, what the trends are – is it increasing or decreasing – and who is more affected. "Then once you have that information, you can start planning for services," Durkin says.
The ADDM project is a multi-site collaboration funded by the Centers for Disease Control and Prevention (CDC). Wisconsin is one of 11 sites that make up this network, with its own local surveillance system called Wisconsin Surveillance of Autism and Other Developmental Disabilities System (WISADDS).
Every two years WISADDS publishes its estimates on autism, cerebral palsy, and co-occurring disabilities in four- and eight-year-old children within an eight-county area in southeastern Wisconsin. Local epidemiology, Durkin says, allows them to use the information to identify their own community needs.
Using data from the ADDM Network, Durkin and colleagues have shown that the prevalence of cerebral palsy has declined in recent years, perhaps due to improvements in prenatal and perinatal care, but that socio-economic and racial disparities still persist. "What history has shown is that if the treatment is difficult to access, if it's very expensive and only some people can get it, it's going to lead to huge disparity." Durkin says. "The epidemiologic research can help identify disparities and stimulate actions to eliminate them."
Through research, the Waisman Center seeks to continue to better understand cerebral palsy and improve outcomes for individuals with cerebral palsy and their families.
Related Story: Let's talk numbers: Epidemiology of intellectual and developmental disabilities research at the Waisman Center
| | |
| --- | --- |
| Your support makes a difference. Donate now to advance knowledge about human development, developmental disabilities, and neurodegenerative diseases through research, services, training, and community outreach. | DONATE NOW |
---
Learn more about the Waisman Center's 50th Anniversary, including events, history, stories and images:
50 Years | 1973 - 2023
---