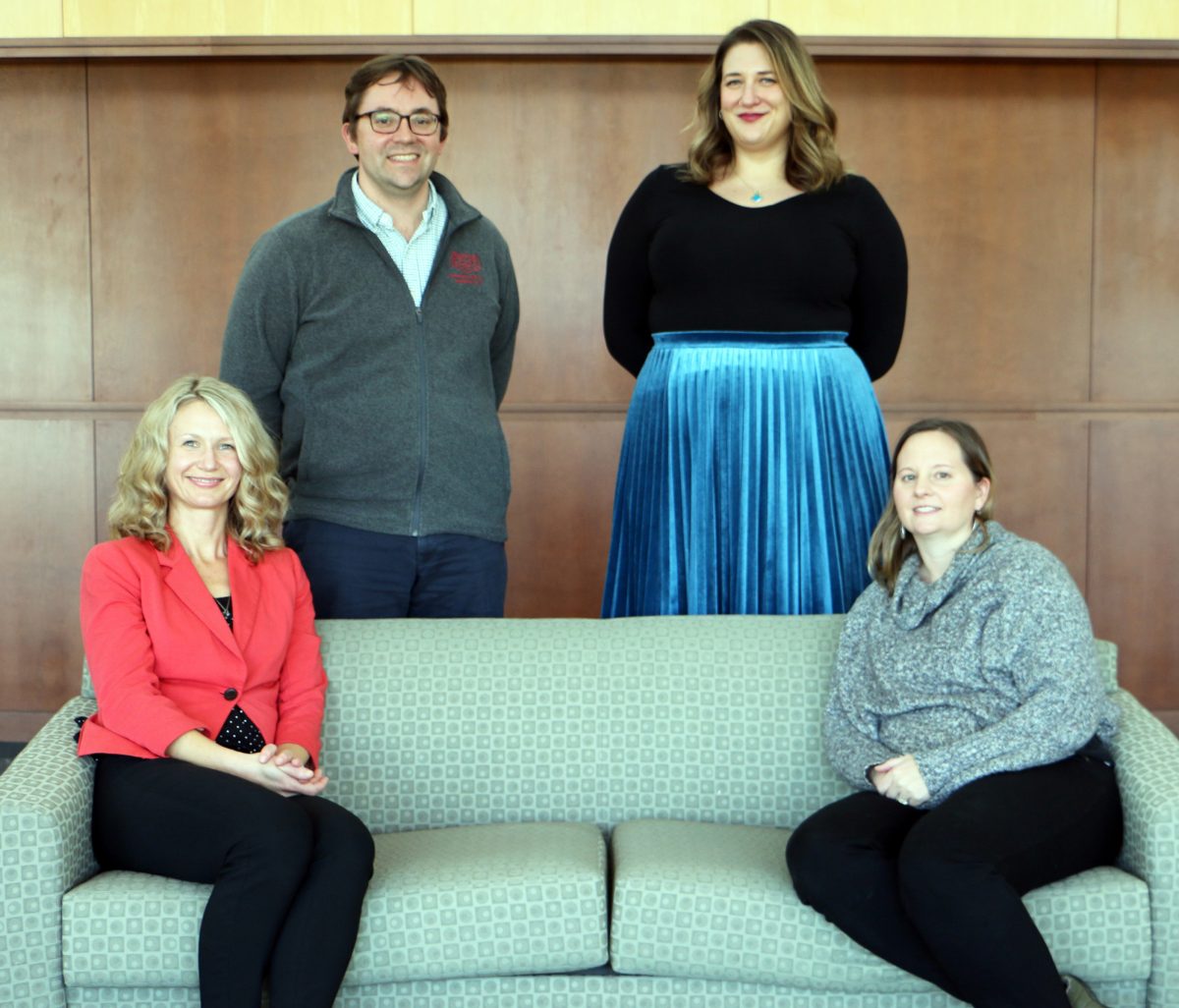 By Charlene N. Rivera-Bonet, Waisman Science Writer
A pillar of the Waisman Center is investing in the next generation of research leaders through training and education. For more than 26 years, the center's Postdoctoral Training Program in Intellectual and Developmental Disabilities Research has helped shape the careers and research paths of 53 postdoctoral researchers through multidisciplinary training in social, epidemiological, behavioral and biobehavioral research on intellectual and developmental disabilities (IDD).
Postdoctoral fellows, who are funded through this program by a grant from the National Institute of Child Health and Human Development (NICHD) come from a wide range of academic backgrounds and are trained in understanding the neurocognitive, social, affective, communicative and family processes in relation to IDDs. "A big focus of our training program is the idea that the future research leaders in the field of IDD are going to need the tools to work in multi-disciplinary teams in order to tackle the big problems in IDD." says Sigan Hartley, PhD, director of the program who is an associate professor of human development and family studies and a Waisman
Center investigator.
Prior to Hartley, Len Abbeduto, PhD, now the director of the UC Davis MIND Institute, initiated the training grant in 1995. He was followed by Marsha Mailick, PhD, Emeritus Vice Chancellor for Research and Graduate Education and former director of the Waisman Center, who led the program from 2011 to 2017.
As part of the program, the fellows receive training in planning and conducting independent research, research collaboration, and securing funding. "I think the fellowship really helped outline some of the stepping stones I needed in order to get funding and how to establish myself as an early career professional," says Geovanna Rodriguez, PhD, who was part of the fellowship from 2017-2019 and is now an assistant professor of school psychology at the University of Oregon.
During her time as a fellow at Waisman, Rodriguez studied bullying and victimization experiences of children with autism spectrum disorder (ASD), as well as family level factors that affected the trajectory of internalizing symptoms in ASD. Currently, at Oregon, her research focuses on mental health outcomes within adolescents with ASD. Rodriguez is a co-principal investigator on a recently funded federal grant through the Office of Special Education Programs aimed at improving school-based mental health supports for high school students with disabilities. This grant could not have been possible without the mentorship and training provided at Waisman. Her training highlighted the importance of creating integrated and high-quality systems of care for students with disabilities, says Rodriguez.
Other research areas that trainees study include Down syndrome, cerebral palsy, auditory perception, fragile X syndrome and early profiles of atypical development.
Fellows also attend seminars on research design and analysis, research ethics, race/ethnicity and culture, professional development and methods in IDD research. "We want to make sure fellows spend time thinking about research ethics, what it means to be a socially responsible scientist, and the importance of ensuring that science is inclusive, reflective of the wide spectrum of individuals with IDD, and responsive to feedback from self-advocates and community stakeholders," says Hartley.
A vital part of this training is the mentor-mentee relationship. Trainees are matched with mentors "who can help propel [their success] even more and, through the program, give them the skills to succeed," says Hartley, who mentored Rodriguez during her time as a fellow.
For Rodriguez, her professional development and growth stemmed from her experience working with the mentors at Waisman as part of the fellowship. "Their mentorship and experience were invaluable in terms of my confidence as a researcher and helping me develop a research agenda," says Rodriguez. Many of the lessons and skills Rodriguez learned at Waisman she now applies in her current position.
Her experience during the fellowship helped shape the mentor she is today. "I think some things that I've taken from [Waisman] informed how I see myself as a mentor and advisor and helping researchers develop those skill sets. So that's been something very valuable to me," says Rodriguez.
The program helped emphasize to Rodriguez the importance of collaborations in research. "I really do try to integrate interdisciplinary collaborations and perspectives because that was something I uniquely experienced at the Waisman Center," says Rodriguez. "It's just having that interdisciplinary lens and collaboration model and that's something that I tried to replicate [at Oregon]."
Many fellows, such as Rodriguez, obtain outstanding positions. Most, says Hartley, go on to tenure track positions at universities, become research scientists, research professors, or have research leadership positions at agencies such as the CDC.
A handful of past fellows have obtained positions at the University of Wisconsin-Madison, and continue to be a part of the Waisman Center as principal investigators with independent research labs such as Audra Sterling, PhD, associate professor in communication sciences and disorders, Brittany Travers, PhD, associate professor in kinesiology, Douglas Dean III, PhD, assistant professor in pediatrics, Lauren Bishop, PhD, assistant professor in the School of Social Work, Leann DaWalt, PhD, director of UCEDD, and Hartley herself. "These are huge, nationwide competitions and they're the ones flourishing to the top," says Hartley.
For Hartley, getting to work with postdoctoral students such as Rodriguez is one of her favorite things about her job. "Getting to see them develop their confidence, develop their own area of scholarship. And just getting to support them in that process is so rewarding."
During the 2021-2022 academic year, the training program includes: Robbie Dembo, PhD, (mentored by Marsha Mailick and Leann DaWalt); Marianne Elmquist, PhD, (mentored by Katie Hustad, Audra Sterling, and Jenny Saffran); Helen Long, PhD, (mentored by Katie Hustad); and Jenny Phan, PhD (mentored by Hill Goldsmith).
The fellowship is supported by grant T32 HD 007489 of the National Institute of Child Health and Human Development (NICHD) along with generous support from the Terry Family Foundation.
Top photo: Waisman Center researchers who received training through the Postdoctoral Training Program in Intellectual and Developmental Disabilities Research. Left to right: Audra Sterling, Doug Dean, III, Lauren Bishop, and Sigan Hartley.