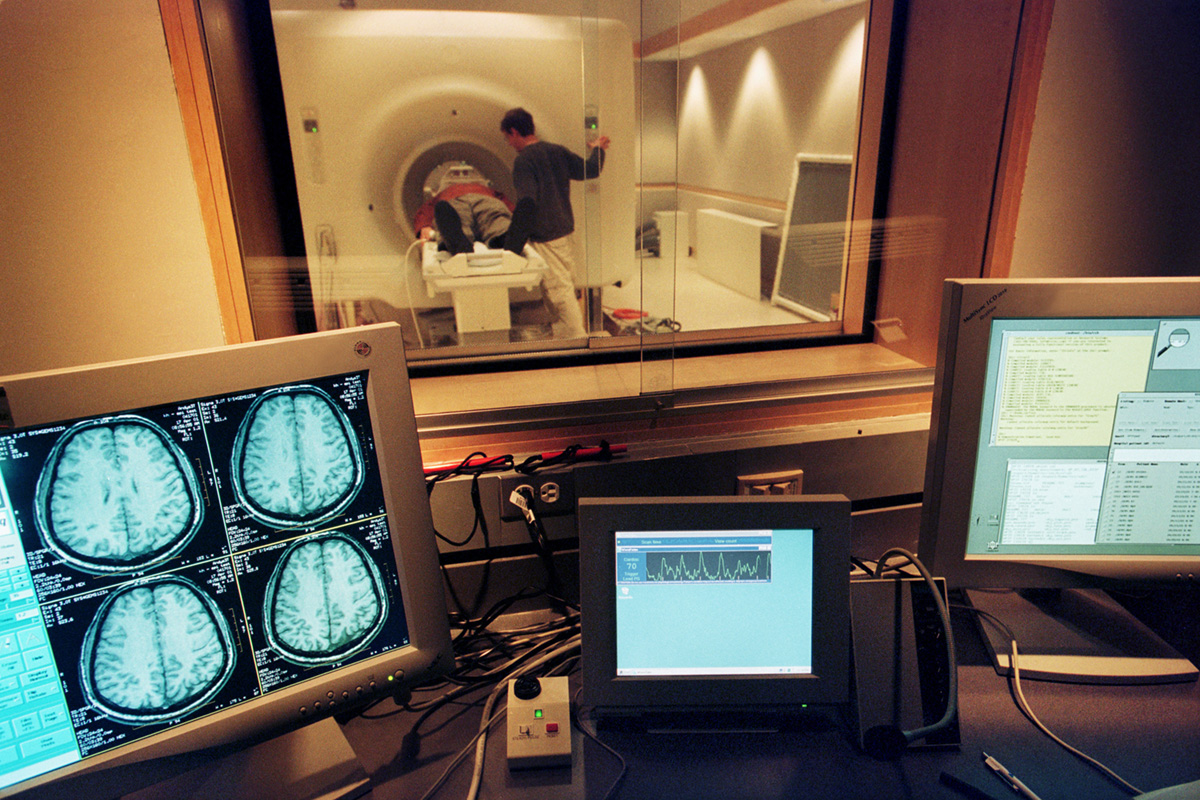 By Charlene N. Rivera-Bonet, Waisman Science Writer
The development of brain imaging techniques has helped us understand emotion, intellectual and developmental disabilities, and neurodegenerative diseases in ways we could not before. Decades of developing and enhancing brain imaging modalities now allows for high resolution images of the brain's structure, function, and metabolism. Much of this has been advanced through research done at the Waisman Brain Imaging Core.
At the Waisman Center, the Brain Imaging Core has played a role in revolutionizing the way this science is done. The presence of a brain imaging facility fully dedicated to research within an Intellectual and Developmental Disabilities Research Center (IDDRC) was once unheard of, and is still a rare phenomenon.
Currently, the Waisman Brain Imaging Core houses a magnetic resonance imaging (MRI) scanner, a positron emission tomography (PET) scanner, an electroencephalogram (EEG) system, a functional near-infrared spectroscopy (fNIRS) system, and a particle accelerator to produce radioactive tracers for PET.
From vision to conceptualization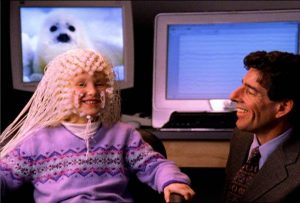 The Brain Imaging Core at Waisman is an ever-evolving project that started back in 1995. Richard  Davidson, PhD, the William James and Vilas Professor of Psychology and Psychiatry, a Waisman investigator and now director of the Center for Healthy Minds, presented the idea to the then-Chancellor David Ward, PhD, and Provost John Wiley, PhD, that the university needed a brain imaging facility that was fully dedicated to research. While there were imaging facilities on campus at the time, researchers were sharing these resources with clinics. Access to the imaging tools was only possible when the clinics were closed and not open to patients.
"Because these imaging modalities were dedicated to clinical work, researchers didn't get access to the scanner until off hours. We would scan until late in the night, trying to collect as much data as possible," says Michael Anderle, manager of the Waisman Brain Imaging Core, who was an undergraduate student in Davidson's lab prior to the establishment of the core.
Davidson's request was timely, since the Waisman Center was just finishing up an expansion project where space was allocated for a brain imaging facility. With the idea, impetus, and new space for the facility, all they needed was the money to build it.
Davidson applied for a grant through the Keck Foundation to fund the acquisition of a magnetic resonance imaging (MRI) scanner – a non-invasive imaging technology that produces three-dimensional images of the brain using a powerful magnetic field. "I wrote the grant and we were successful. And that's what enabled it. But it required an enormous amount of faith and time," Davidson says.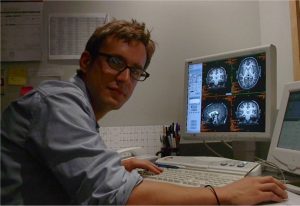 Due to the funding, the imaging facility was named the Keck Laboratory for Brain Imaging and Behavior, later changed to Waisman Brain Imaging Laboratory and then the Waisman Brain Imaging Core.
"My vision [for the brain imaging facility]," Davidson says, "was that it would be a hub for research on human neuroscience and that it would help attract new faculty, which it certainly has."
The university was starting a cluster hire just as Waisman brain imaging began developing. Davidson applied for the very first cluster hire and as a part of that, Andrew Alexander, PhD, professor of medical physics and psychiatry and now co-director of the Brain Imaging Core, was hired as an MRI physicist in 2000. His start at Waisman coincided with the opening of the core.
Alexander, who left a research faculty position at the University of Utah, brought along his expertise in MRI. "I thought it was a unique and exciting opportunity for my research program, and also just to be able to develop new techniques on the new 3 Tesla MRI platform. And so, I came out and helped to set up the imaging system," Alexander says.
From conceptualization to reality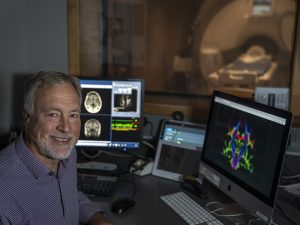 One of the first of many important studies on intellectual and developmental disabilities performed came from Davidson's lab, using functional MRI to look at brain function in individuals with autism while they looked at faces on a screen. "It was really fascinating that the individuals with autism would focus on about every other area of the face except the eyes. But then when they did focus on the eyes, there was very large activation in the amygdala [a region of the brain involved in emotion regulation and fear response]," Alexander says.
Shortly after the establishment of the Brain Imaging Core, they expanded to provide access to a positron emission tomography (PET) scanner, an imaging tool that uses small amounts of radioactive tracers to measure changes in neurochemical processes. The core also added a particle accelerator, led by Andrew Roberts, then faculty in medical physics, to provide the ability to produce the radioactivity for performing the PET scans.
The entire facility was designed from the ground up. "We hired the right kind of physicists. We had a very robust track record of garnering extramural funding. And we made it inevitable. It was a powerful set of causes and conditions that came together," says Davidson, who directed the core for 15 years.
The directors
During his tenure as director, Davidson developed the Center for Healthy Minds (CHM) in 2010 focused on conducting rigorous scientific research to bring new insights aimed at improving the well-being of people of all backgrounds and ages. "The imaging studies that we did at Waisman on meditation really helped to build the foundation for the Center for Healthy Minds. And our research on the neural basis of emotion and particularly positive emotion and well-being was really crucial in providing a scientific foundation for the development of the center," Davidson says. Originally housed at the Waisman Center, CHM moved in 2017 to a new building due to its exponential growth. Alexander and Bradley Christian, PhD, professor of medical physics, stepped up as co-directors of the Brain Imaging Core.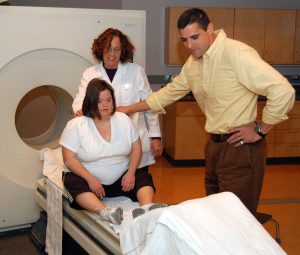 Christian was recruited as faculty by the Department of Medical Physics in 2005, with research heavily focused on applications of neuroimaging with PET in neurodevelopment, psychiatric illness, and neurodegeneration. "So, the Waisman Center was just a natural fit for my research program," Christian says.
Having imaging experts and support staff such as MRI physicists at the Brain Imaging Core, says Anderle, offers an incredible advantage.  Both Christian and Alexander are technical experts in their fields who provide their knowledge on PET and MRI to everyone who uses the core. They train researchers on using the tools, help to optimize protocols, ensure that users are acquiring quality data, and help with its interpretation.
Keeping up with state-of-the-art technology
Since its beginnings, brain imaging at the Waisman Center has helped catalyze research at the center and across campus, garnered a number of major grants in the range of $75 million, and added new faculty members. It has also evolved by obtaining new instrumentation and the development of techniques that improve the acquisition and analysis protocols of brain imaging data.
One of the many things that distinguishes the Brain Imaging Core at the Waisman Center is the use of cutting-edge technology. Because of the quality and rigor of research done, major grants have allowed the core to constantly acquire new and improved instrumentation. Since its opening in 2001, the core has upgraded the scanners so that they are faster and have better resolution, obtained a new PET/ computerized tomography (CT) system with more efficient and precise image acquisition through an NIH-funded grant awarded to Christian, and installed new updates to the MRI systems that come with improved protocols. Academic staff scientist Alex Converse led the effort to acquire an updated state-of-the-art small animal microPET for research in preclinical models. "Back when we collected data in year 2000, compared to the images that we collect now, the clarity and the resolution is night and day. And the scientific questions that you can answer with the enhanced resolution provides our users exponential growth," Anderle says. Recently, Alexander received a grant to fund the purchase of a new high-performance MRI head gradient system. While the magnet will remain the same, this gradient insert (GE MAGNUS), is designed for advanced brain imaging capabilities with higher spatial resolution, faster scanning, and less distortion. This installation, to be completed in 2023, will be one of six GE MAGNUS scanners installed in the world.
In addition to instrumentation, the core's scientists developing technologies to improve data acquisition. These include reducing artifacts in the MRI data such as those introduced by motion, achieving higher spatial resolution with better sensitivity to detect small changes in the brain, developing ways to image white matter structures in the brain, and making the scanner quieter for smoother imaging of young kids and babies. These innovations have been translated to the investigation of clinical research in IDDs.
For example, Alexander and Janet Lainhart, MD, psychiatrist and professor at the School of Medicine and Public Health have done seminal work in autism research using MRI. They are currently collaborating on a new $10 million project supported by the NIH aimed at studying aging in autistic individuals using MRI and other tools.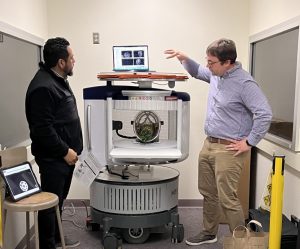 The Brain Imaging Core has also provided access to a wide variety of radiopharmaceuticals for PET imaging to study synaptic function and the presence of neuropathology related to aging. These have been used to forge a productive and enduring collaboration with the UW Alzheimer's Disease Research Center (ADRC) to study the relationship between the presence of neuropathology with decline in cognitive abilities. The Brain Imaging Core also supports one of the largest international studies investigating aging in individuals with Down syndrome. The Alzheimer's Biomarker Consortium – Down Syndrome (ABC-DS) study, led by Christian and Sigan Hartley, PhD, professor and 100 Women Chair in Human Ecology and Waisman investigator, is the continuation of a project started more than a decade ago at the Waisman Center using PET imaging to characterize the accumulation of Alzheimer's-related amyloid in the brain of people with Down syndrome.
Research questions asked at the Brain Imaging Core span all ages, from human development in babies, to Alzheimer's disease in older adults. They cover a range of topics within IDD, development and neurodegeneration, such as motor control in autism, Alzheimer's disease in Down syndrome, pediatric traumatic brain injury, auditory impairments, Alexander disease, Rett syndrome, fragile X syndrome, and much more.
Seth Pollak, PhD, Vaughan Bascom Professor of Psychology and Distinguished Professor of Pediatrics, is a pioneer of biologically-based research in child emotion, with MRI being one of his principal tools used for understanding the brain during emotional development in children. In 2012, along with Davidson, his groundbreaking research at Waisman provided biological indications that stress may delay brain development and impact spatial working memory in children.
Looking ahead
On its ever-evolving nature, the Waisman Brain Imaging Core continues to update its technologies to improve the quality of the data collected, as well as make the process more comfortable for participants.
In addition, Doug Dean, PhD, assistant professor of pediatrics and medical physics, and Waisman investigator, received funding for a new ultra-low field MRI scanner, which is portable and low cost compared to traditional MRI. "It would be really neat to take some of the things that we learn on the really advanced imaging system and be able to translate that to the lower cost system that you could possibly put in the back of a truck and drive around and scan people more locally and regionally," Alexander says.
For PET, Christian's hope is that the research will enhance the development of simpler and more accessible types of biomarkers for early Alzheimer's disease, to be able to get similar types of information with blood tests than they would acquire with PET, but more amenable to widespread use for the general population in Wisconsin and beyond.  "We have established the gold standard with PET imaging. We can now work on using these to help characterize newer and easier tests," Christian says. "While this may lead to reduced use of the scanners in the Brain Imaging Core, it gives us the opportunity to focus on the next cutting-edge development."
The success of the Waisman Brain Imaging Core has been due to the efforts of many: created through inspired vision, and grown through continued technical expertise and management, from staff, faculty, research scientists, graduate students, and others who put it to good use and seek to constantly make it better. "The growth and function of the Brain Imaging Core today is the result of more than a basic natural evolution," Christian says. "It undoubtedly benefitted from thoughtful planning, and a lot of vision, rigorous science and hard work to develop into this core lab that supports all of the cutting-edge research on the UW campus."
| | |
| --- | --- |
| Your support makes a difference. Donate now to advance knowledge about human development, developmental disabilities, and neurodegenerative diseases through research, services, training, and community outreach. | DONATE NOW |
---
Learn more about the Waisman Center's 50th Anniversary, including events, history, stories and images:
50 Years | 1973 - 2023
---