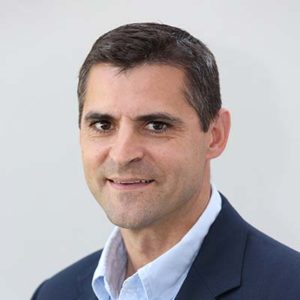 Brad Christian, PhD, Waisman investigator and associate professor of medical physics and psychiatry, is part of a new National Institutes of Health initiative to identify biomarkers and track the progression of Alzheimer's in people with Down syndrome. This initiative is an expansion of a five-year collaboration between the Waisman Center and the University of Pittsburgh that also includes UW co-investigators Andy Alexander, Rasmus Birn, Maritza Dowling, Sigan Hartley, Sterling Johnson and Marsha Mailick.
Many people with Down syndrome have Alzheimer's-related brain changes in their 30s that can lead to dementia in their 50s and 60s. Little is known about how the disease progresses in this vulnerable group. The NIH Biomarkers of Alzheimer's Disease in Adults with Down Syndrome Initiative will support teams of researchers using brain imaging, as well as fluid and tissue biomarkers in research that may one day lead to effective interventions for all people with dementia.
"This project highlights the amazing environment we have at UW and the Waisman Center, bringing together talented researchers from a wide range of disciplines to advance our understanding of Alzheimer's disease accompanying Down syndrome," says Christian.  "Knowledge gained from exploring the progression of biomarkers of dementia and cognitive function in people with Down syndrome can be used to advance future treatments for these individuals and all people with Alzheimer's disease."
The studies will be funded by the National Institute on Aging (NIA) and the Eunice Kennedy Shriver National Institute of Child Health and Human Development (NICHD), both part of NIH. The institutes are jointly providing an estimated $37 million over five years to two highly collaborative projects, which enlist a number of leading researchers to the effort. To advance Alzheimer's research worldwide, the teams will make their data and samples freely available to qualified researchers.
"This is the first large-scale Alzheimer's biomarker endeavor to focus on this high-risk group," said Laurie Ryan, PhD, chief of the Dementias of Aging Branch in NIA's Division of Neuroscience, which leads NIH research on Alzheimer's.  "Much like the long-established Alzheimer's Disease Neuroimaging Initiative, the goal of this initiative is to develop biomarker measures that signal the onset and progression of Alzheimer's in people with Down syndrome. Hopefully, one day, we will also use these biomarkers to determine the effectiveness of promising treatments."
The link between Alzheimer's and Down syndrome is well-known. People with Down syndrome are born with an extra copy of chromosome 21, which contains the amyloid precursor protein gene. This gene plays a role in the production of harmful amyloid plaque, sticky clumps that build up outside neurons in Alzheimer's disease. Having three copies of this gene is a known risk factor for early-onset Alzheimer's that can occur in people in their 30s, 40s and 50s. By middle age, most but not all adults with Down syndrome develop signs of Alzheimer's, and a high percentage go on to develop symptoms of dementia as they age into their 70s.
The initiative establishes funding for two research teams that will pool data and standardize procedures, increase sample size, and collectively analyze data that will be made widely available to the research community. The teams will employ an array of biomarkers to identify and track Alzheimer's-related changes in the brain and cognition for over 500 Down syndrome volunteers, aged 25 and older. The measures include:
Positron emission tomography (PET) scans that track levels of amyloid and glucose (energy used by brain cells); MRI of brain volume and function; and levels of amyloid and tau in cerebrospinal fluid and blood;
Blood tests to identify biomarkers in blood, including proteins, lipids and markers of inflammation;
Blood tests to collect DNA for genome-wide association studies that identify the genetic factors that may confer risk, or protect against, developing Alzheimer's;
Evaluations of medical conditions and cognitive and memory tests to determine levels of function and monitor any changes;
For the first time in people with Down syndrome, PET brain scans that detect levels of tau, the twisted knots of protein within brain cells that are a hallmark Alzheimer's disease.
Aside from earlier onset, Alzheimer's in people with Down syndrome is similar to Alzheimer's in others. The first symptom may be memory loss, although people with Down syndrome initially tend to show behavior changes and problems with walking.
"Over the past 30 years, the average lifespan of people with Down syndrome has doubled to 60 years—a  bittersweet achievement when faced with the possibility of developing Alzheimer's," said Melissa Parisi, MD, PhD, chief of the NICHD Intellectual and Developmental Disabilities Branch, which leads NIH's Down syndrome research. "There is much to learn about Alzheimer's in Down syndrome, and we're hopeful that these new projects will provide some answers. One mystery we hope to solve is whether or not the disease progresses at a faster rate in this group."
Parisi noted that research into Alzheimer's in Down syndrome is a key focus of the National Plan to Address Alzheimer's Disease, which calls for improved care for specific populations that are unequally burdened by the disease, including people with Down syndrome, and for increased research that may lead to possible Alzheimer's therapies.
The University of Wisconsin is part of a collaborative effort led by Benjamin Handen, PhD, at the University of Pittsburgh. Other institutes now participating in the new initiative include: the Banner Alzheimer's Institute, Phoenix; Cambridge University, England; the Alzheimer's Disease Cooperative Study, San Diego; and the Laboratory of Neuro Imaging, University of Southern California, Los Angeles.